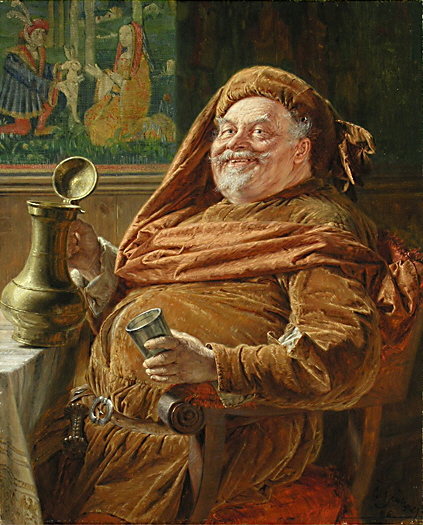 There are innumerable similarities between what I drank yesterday and what the great man in tights drank.  And so, in some bizarre, cosmic twist, time repeated itself in the beer world.
I found myself (for the third time) at the Manhattan Cask Ale Festival at Chelsea Brewing Co with the Hudson river lapping at the doorstep.  The sun was shining and the metal casks gleamed in the light like liquid jewels, all lined up for the sipping.
Cask-conditioned ales are natural, unfiltered, unpasteurized beers made in the same vessel they are later served from, just like in the olden days.  After going through the primary fermentation, the beer is transferred from the fermenting tank to the cask without removing the yeast or sediment.  A primer is added as a super-starter for the yeast still in the beer, and ba-de-bing!  Fermentation starts again, releasing CO2 and thus carbonating the beer naturally.
Its different from the beer out of the standard tap, as they are force-carbonated by an outside pressure source.  And on top of that, for stability sake, they are filtered and the yeast cells and sediment are removed before landing at your local TGI Friday's.  But not cask ale–everything is in there.  Nothing is removed.  And you can taste the difference.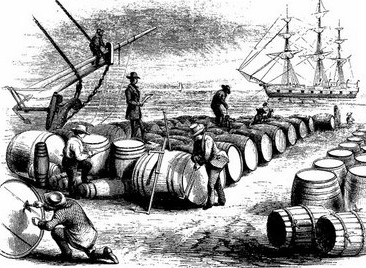 So there I am looking out over the water, sipping on a delicious Chelsea '90 Shilling Scotch Ale'.  The bubbles were natural and the beer had a freshness to it.
I thought of England and the rolling hills, and in my minds eye, I saw a band of vagabond actors come around the bend making a merry racket.  Falstaff was there, and Hamlet too.  I caught a glimpse of Rosencrantz and Guildenstern passed out drunk in a pile of hay on the back of an ox cart.
And then I saw him.  Bringing up the rear of the train, and riding on top of a massive wooden beer cask, was Shakespeare himself.  He looked regal and vibrant.  His clothes were worn but distinct with character and the stink of life.  He had a smirkish look on his face as he called for them to "halt". They unloaded the barrel from the cart, hammered a tap into the side, and voila…beer began to flow.  They gathered around the fire, and sang and told bawdy jokes.  It was a fine sight.  And the beer was delicious.
What I like about the Manhattan Cask Ale Festival is the sheer range of flavors and styles one can taste, and 45 different brews to choose from.  And, inevitably, I always taste a beer that is straight up, downright gross.  Like seriously, "this tastes awful.  I can't believe this was in my mouth".  But I like to see where beer making can go and what flavors are possible.  In fact, I'd be pissed if I DIDN'T try one that was hideous.
So here's what I tasted, and yes, one of them was nasty.  I'm not going to tell you which one…but you can probably guess, you spicy devils…
Blue Point "Rastafar Rye", American Rye Beer, 4.8%. Patchogue, New York 
Cape Ann "Fisherman's Navigator", Doppelbock, 7.5%. Gloucester, MA
Chelsea "Rye's Up!", American Rye Beer, 6.3%. New York, New York
Chelsea "90 Shilling Scotch Ale", 8.1%. New York, New York
Pittsfield Brew Works "Chipotle Brown", 5.5%. Pittsfield, MA
Stone "Arrogant Bastard Ale with American Oak", 7.2%. Escondido, CA
Two Brothers "The Bitter End", 5.1%. Warrenville, IL
What do you say, Juliet?  You wanna grab a pint and a roasted capon?