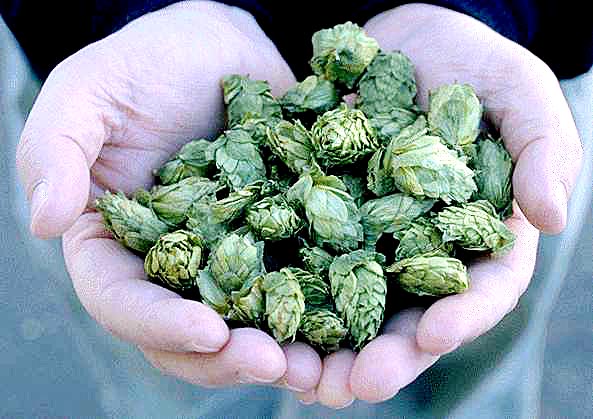 You want terroir in your beer? You want the taste of the earth from which it came from? Some will say that wine grapes are the true reflection of the land from which they came.  And they're right: a Meursault is never gonna taste like a Chardonnay from Sonoma. The soil is different, the weather is different, the drainage of the earth, the pruning techniques of the vine, and even the underwear worn by the winemaker all come into play. But beer isn't a reflection of anywhere specific and can be made anywhere, right? It isn't connected with its environment, right?  I claim it is.  And that's because of one thing: hops.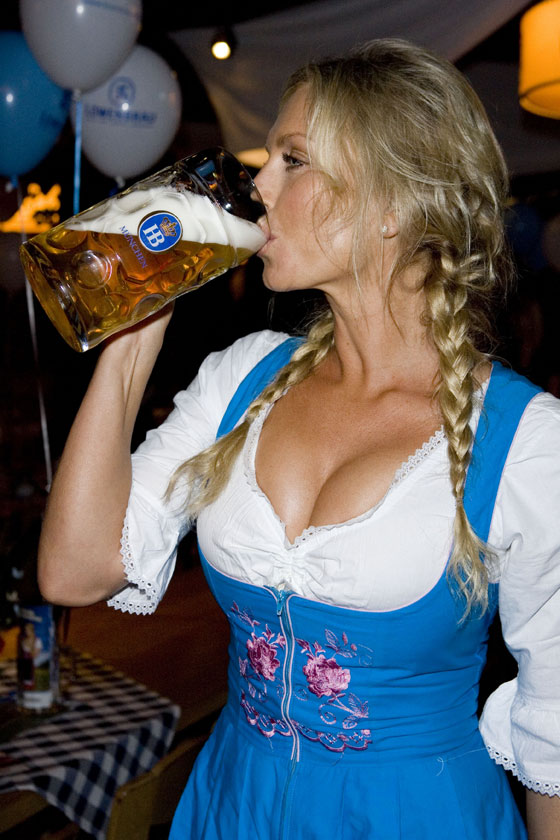 Hops are the often overlooked lifeblood of a beer. They are the seasoning that not only gives a beer its particular style, but also the driving engine for its aroma and bittering characteristics. But we don't like bitter things! Well, on the contrary, my friend, we certainly do! In fact, we love em. We need balance. Think peanut butter and jelly with its sweet/salty opposition. Or a package of Sour Patch Kids, with their opposing sweet/sour profile that keeps our tongues doing a violent dance of stimulation. We crave that teeter- totter. Its what makes good food great, good wines great, and good beers even better. With beer, its the balance of sweet/bitter that keeps us licking our lips and headed for another sip. The sweetness of the malts need to be balanced by the bitterness of the hops.  Balance, balance, balance.  The key to life, really…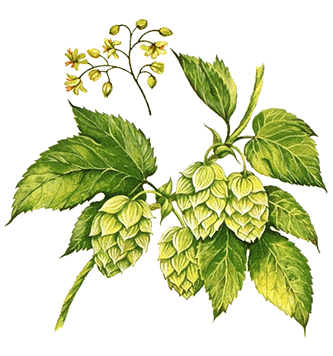 But what the hell are hops? We've all heard the name tossed around in tv commercials, and we know they're in our beers for some reason, but why? Simply, hops are the female flower cones of the hop plant (Humulus Lupulus) which is part of the family Cannabaceae. For those who this name may sound familiar to, yes, they are a relative of the Cannabis (hemp) plant, and do have a very similar appearance and aroma to the bags of Humbolt-County's-finest that your cousin Eddie sends you every couple of months.
Hops are primarily a flavoring and stability agent for beer, and have been prized by civilization for more than 1200 years, with the first documentation of hop cultivation going back to 736 in the Hallertau region of Germany (still a prized region for hop growing today). Beer brewing has gone on for over 4,000 years, so brewers have experimented with many bittering agents over time, and have thrown in countless herbs and flowers from dandelions to marigolds. In addition to giving a beer its balance, hops also serve to have an antibiotic effect on the brewer's yeast and prevent any nasty microorganisms from munching away at your liquid gold.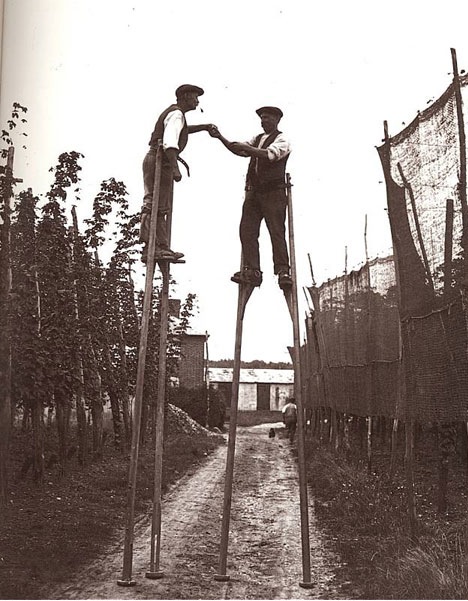 Strung up on high wires, hop bines (yes, "bines") climb like Jack's beanstock, and may grow up to 25 feet in a single season. How's that for a magical bag of beans? This is where the terroir, or "sense of place", comes into the equation. Like grape vines, hops are finicky and certain areas are better for growing certain varieties than others, with Germany and the US leading the charge in terms of total production.  The main growing centers in the US can be found in the Yakima (Washington) and Willamette (Oregon) Valleys.
Some say beer has no terroir, or sense of distinct heritage. But like Syrah grapes from the Rhone valley, different species of hops are connected with different towns or regions. European varieties include Saaz, Hallertau, Tettnanger and Spalt. These are named for their home towns, and are considered the "noble varieties" just like Riesling, Pinot Noir and Cabernet Sauvignon are in the wine world.  But there are many more, all with distinct characteristics.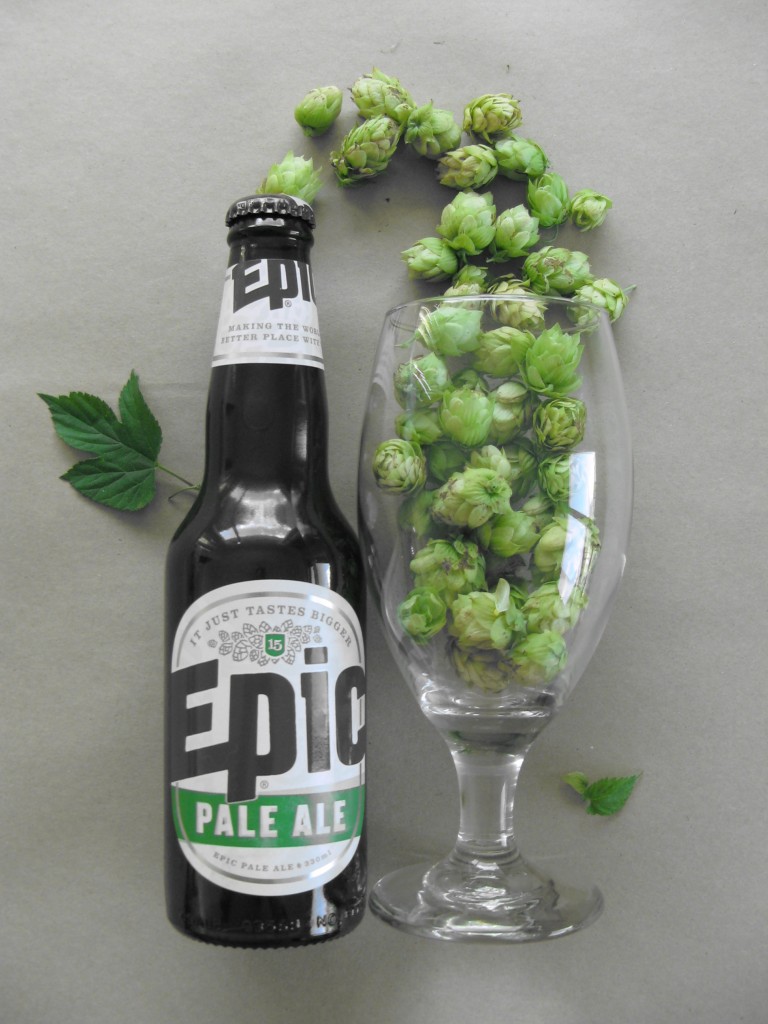 Hops used in brewing are broken into two categories: bittering hops and aroma hops. Just like their name implies, certain hop varieties are used for different outcomes, with the bittering hops added to the initial boiling of the wort to give the bitter backbone to the beer, while the aroma hops are added near the end of the boil to impart, well, aroma to the finished beer.  At the heart of a hop cone is the essential oils from the resinous lupulin which is composed of two main acids: alpha and beta.
Hops are ranked on their alpha acid content, and even have their own system to measure it called the International Bitterness Units Scale . Most lagers are lower in IBU's, while more intensely hoppy beers like India Pale Ales come in higher on the scale. Some like the Lagunitas Hop Stoopid Ale claim to be "so hoppy that it threatens to remove the enamel from one's teeth" (and it does…I've tried it. Overall I wouldn't call it in balance, as it is a Frankenstein of a beer, with such intense hops that you feel you're either lost in a Carolina pine forest or hanging out in a Phishhead's dorm room in Boulder).
Hops are all the rage today, and microbrewers are constantly pushing the IBU ceiling and releasing whallopingly-hoppy beers with names like Hoptimus Prime or Hop Whore.  So if you like hops, you're in luck.  And if you crave your tongue to be dredged in a relentless, lupulin embrace of skunky resins, step on up the IBU scale…
Balance shmalance, just give me my damn hops!