IPA, "Hoptical Illusion", Bluepoint Brewing Company, Patchogue, New York
(6.8% Alc)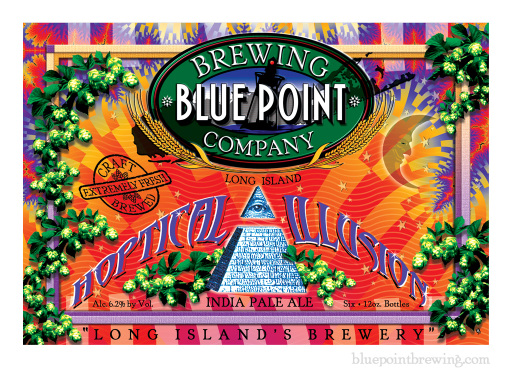 I'm feeling the hops.  Like mad feeling the hops.  I dream of immersing myself in a McDonalds Playland where the balls have been replaced with barrels are barrels of hops.  And there must be some freak out there whose managed to stuff their pillows with hops (note: please send me one asap).  And for those who've been following my blog, you may have realized the extent of my obsession when you read my dissertation/diatribe/love letter/term paper to hops a couple of weeks ago.
Bottom line: of late, my taste is sliding that way…the way of the hops.
Recently, I found myself in the grocery store doing the beer wall scan; pondering the favorites and searching for the newbies…you know the drill.   There, amongst them, was this bottle with the brilliant, hippy, psychedelic label that entranced my eye.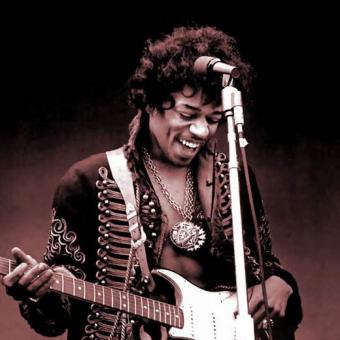 "Hoptical Illusion" it read; so bright and colorful it was as if the tie dyes from my high school bedroom were looking back at me.  Cool label I thought, but what's inside?
Well, what's inside is slamming good.  It's a full-flavored IPA that smacks you with a steam-train of hops, but also delivers a balancing mouthful of malts. 
Billed as "Long Island's First Microbrewery", Blue Point is located in Patchogue, NY; and for those who aren't familiar with it, it's at the eastern fork of Long Island just before the split between the Hamptons to the south and the North Fork wine country to the north. 
Peter Cotter and Mike Burford opened their brewery in 1998 after years of dreaming, homebrewing and scheming.  Making the leap was an exercise in fund-raising and a challenge like none they'd faced, with each taking odd jobs to make ends meet; Mike in a fish shop, and Pete in construction. They eventually traveled to Maryland for a brewery auction where they walked away with their first kettles, tanks, mashtuns and mills.  There they bought a massive old brick kettle which they disassembled brick-by-brick in Maryland and brought back to NY to rebuild; it is still the centerpoint of their brewing operations today.
Light to medium, caramel brown in color, Hoptical Illusion gives off a light fruit and nuttiness on the nose.  It's vibrant and alive in the mouth, and bristles with a resinous core accented by hints of pine, almond and malty strawberry.  It's a big beer with a long finish.  Delicious stuff.  Have you ever been to Electric Ladyland?