Fire up the bat signal, commissioner!  We're being invaded by an army of citrusy hops and specialty malts this city has never seen the likes of!  Rouse Batman from his cave, cause NY Craft Beer Week begins today and there's no turning back!
As I write this, the taps are being screwed on, the glasses are being polished, the cask ales are being tapped, and the beer is about to start flowing through the streets of our fair Gotham.  Hot damn, I say.  This place used to be a waste land for beer lovers.  When I moved here nine years ago, looking at the beer selections depressed me.  Opening up my menu at a restaurant left me flummoxed.  How the hell could such a progressive city be so far out of tune?
Ah, but how times change.  Today, you'd be hard pressed to go into a corner store and not spot a jacked-up IPA from a local brewery or a Belgian beauty looking back at you.  Not to mention, the restaurant scene has become a Mecca for a beer lover looking to pair some Saison with spicy Vindaloo.  And so, today, my friends, the jackals of beer pleasure are being set free.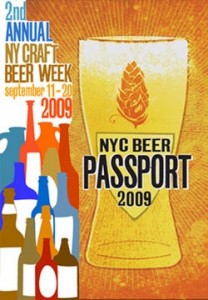 Just check out these stats:  83 bars, over 30 restaurants and over 20 breweries are in on the action.  How does it work?  Visit www.NYCBeerWeek.com, purchase yourself a "passport" for $35 and hit the streets.
In addition to $2 beers from a slew of great producers, they've got events lined up and beer dinners going on that bring a tear to my eye and make me proud to be a NY'er.
Just check out this dish at Mas (farmhouse):  Fried Oysters Rockefeller Style with Spinach in a Bacon Cream paired with Southampton Double White Ale.  Now that's dancing with the devil in the pale moonlight.
Here's some links to get you goin from NYCBeerWeek.com:
**Plus, Mapfaced.com will help you plan a beer crawl and Beermenus.com will tell you what's pouring where