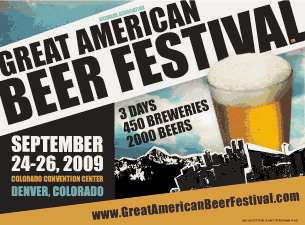 It's concluded.  For the 27th year in a row, the Great American Beer Festival overtook Denver in sudsy force.
Although not in attendance myself, nor having ever seen the madness firsthand (insert mini violin here), I'm always amazed by the festival statistics because they're just too damn staggering to believe.  Plus, Colorado is my home state and their beers nursed me into adulthood, so I feel the same affinity for this event as a babe does to its mother's teet.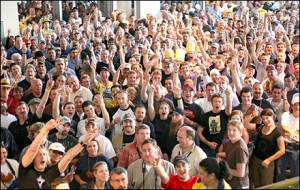 I can only imagine that the whole 3-day affair is akin to a Monster Truck Rally/Beer Rodeo/Science Expo/Mardi Gras Blowout.  And lo and behold, Colorado killed it, being the state to receive the most medals for its beers and brewers.
The GABF is the largest commercial beer competition in the world.  78 beer categories are set up  and brewers large and small submit their finest to be judged by a crack crew of 132 international beer judges from 10 countries.  This year, the judges had their task cut out for themselves as there were a whopping 3,308 entries (enough beer to sustain an entire brigade of Belgian monks for three months—well, give or take a day or two).
Colorado and California are the top dogs to beat and this year was no exception.  The top 5 winning states were:
Colorado (45 medals)
California (39 medals)
Oregon (22 medals)
Washington (13 medals
Pennsylvania (12 medals)
(And don't lose heart, NY'ers, we placed 7th—and we're only gaining strength with each passing brew coming out of our kettles).
And just in case you're still not convinced how ridiculously massive this festival truly is, get out your graph paper and slide rulers and check out these stats:
457 breweries in the festival hall
2,100 beers served at the festival
49,000 attendees (including brewers, volunteers and ticket holders)
3,000 volunteers
495 breweries in the competition
3,308 beers judged in the competition
Average number of competition beers entered in each category:  42
Category with the highest number of entries:  134  (American Style India Pale Ale)
Hot damn.  Now thats a party.  Congrats to the winners and the Brewer's Association for the continued success of this event.  Now if you could just send me a plane ticket and set me up with a place to sleep, I'll see you at the next one.  I'm really not that picky; a cot somewhere in the corner of the beer hall will be perfect.  Oh, and a pair of pajamas decorated in hops should do the trick (yes, with booties).  Surely they make these for men that are 6'2″, right?
For more stats and to see a list of the winners, visit the Beertown.org website.