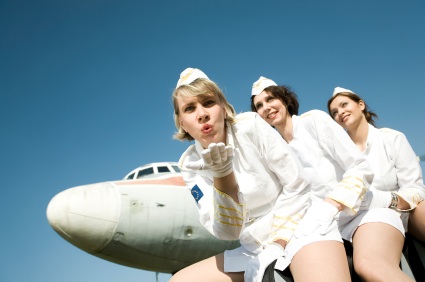 So, there I am reading the NY Times over a cup of coffee, when I see an article about Singapore Airlines hiring Master Sommeliers to help them select wines.  What? I thought.  Are you frickin serious?!  I mean, we all know the airlines are scrimping and saving in every damn corner of this industry, and now they're dabbling in fine Bordeauxs?  But then I thought about it some more…
Let's say I'm a well-heeled jet-setter zipping around Asia in first class.  I want my glass of bubbly when I sit down, and I want my Roasted Venison Loin for my mid-afternoon snack.  And you know if I don't get my satin pillow and fur sleep mask, I'm gonna be a mean SOB at that board meeting in Tokyo.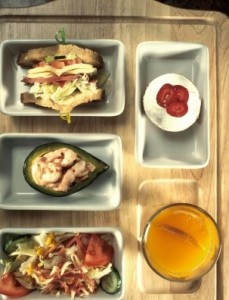 I was kind of intrigued; what was this all about?  So I started doing some digging, and what I found is a multi-billion dollar segment of the industry, complete with crack tasting panels, shrewd buyers and even their own awards categories.
Airplane food used to suck (and, yes, okay, for many of us in coach, it still does.  Frankly, I often debate whether to eat the "Gourmet Chicken Sandwich" thats been microwaved within mere inches of edibility, or just to gnaw on my hand until I arrive at my destination).
But for those in Business Class and First Class, you've got menus designed by celebrity chefs, recipes that have been rigourously tested for in-flight practicality and ingredients that are thoughtfully sourced.
But how about them drinks?  I remember a few years ago when I first noticed that Best Cellars began picking the wine selections for Jet Blue (not exactly my first choices in wine, but I'll bet they saw an uptick in sales and the brand awareness for Best Cellars and the wines they selected no doubt was spread near and far).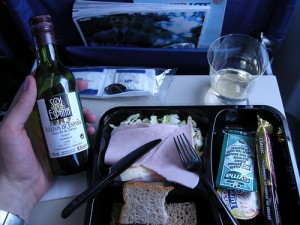 And this is not new territory for the airlines.  They're cutthroat about the added perks they need to please the luxury traveler who just ain't satisfied with a hot towel in the face and a glass of commercial swill in their glass.  Over the last decade, airlines have made themselves an attractive market for wineries, and with the world's economy hitting many of them below the belt, these wineries are scrambling to get their wines out in the luxury market however they can.
Just check out some of these facts I dug up:
Singapore Airlines (or "SIA") spends about $16 million a year on wine, serving about 2.2 million bottles
SIA's expert panel (three independent panelists including a Master of Wine and a famed British wine writer) tastes about 1,000 different wines to select only 16-18
British Airways voluntarily pays for staff members to take classes through the Wine and Spirits Education Trust to be awarded in-flight sommelier status
Delta Airlines goes furthest by offering a rigorous 7-day wine and food course that runs from 7 am to 9 pm called the Vinum Wine Academy
Business Traveler Magazine has a competition every year called Cellars in the Sky that awards airline wine programs.  Check out the winners in this category:

Best First-class Cellar

1 Lufthansa
2 Qantas
3 TAM (Brazil)
4 Emirates
5 Qatar Airways
What's next?  Great beer lists at a mile-high?  Flying mixologists?  Trained monkeys who make sushi rolls to order?  And why not?  Lets bring the good life to the skies.
Now if I can just find me a nice, crisp Riesling to pair with my microwaved chicken sandwich…hmm…thinking a Bernkasteler Doctor from the Mosel just might do the trick.  Oh, and a foot rub would be great; just ignore the crying baby who's up in my grill in 23A.