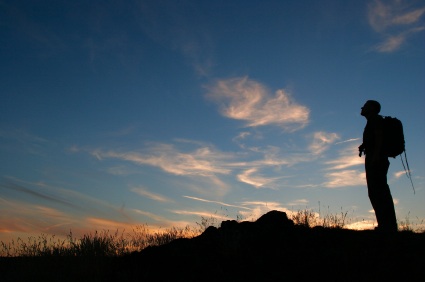 "Dude, get your ass to Priorat!"
And so it was that I received this text message from my friend who's currently gallivanting through Europe on a journey to see the wines and vineyards of the world (rough, I know).  Apparently, as my ass was slaving away in the mines of the East Village, he was "sitting on the balcony of my hotel room in Gratallops (central Priorat), drinking a bottle of PRIORAT!"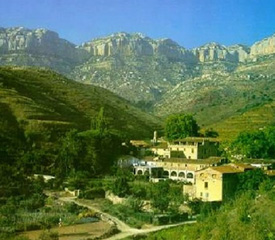 And, yet, as I sat there on the floor of our subterraneous wine room in the bowels of NYC, I felt oddly close to my fair, traveling friend.  Because a quick glance revealed that only a few feet away sat numerous bottles of Priorat's finest juice.  And in some, strange cosmic way, we were connected across the oceans.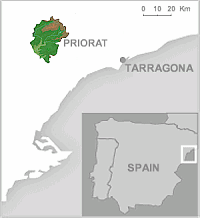 So…Priorat…just what the f and where the f is that?, you ask.  Well, my curious friends, its time you got on board because Priorat ("Pree-oh-rot"), Spain is perhaps the most innovative, exciting wine region to come out of the Spanish food and wine juggernaut of the past couple of decades.
Located in the province of Tarragona in the Catalonian region in Northeast Spain, Priorat is tucked away in a remote, rocky, hilly region out of the public eye.  A mere backwater of incredibly steep valleys and terraced vineyards, Priorat smashed its way onto the international stage in the 1990's thanks to an influx of young, innovative winemakers like Alvaro Palacios, Rene Barbier, Carles Pastrana and Jose Lluis Perez.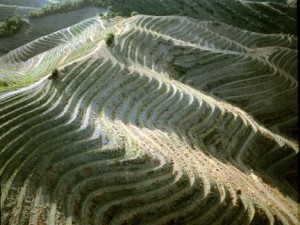 Like the cultivation of many of our great beverages (Belgian beer, anyone?), the vines were first planted by monks in the 12th century and were tended for centuries until 1835 when they were taken over by the state.  Ain't that a bitch?  You and your God-fearing brothers spend hundreds of years building up your vineyards to a level of greatness rarely experienced, only to then have the government come in and take it all away.  (If you're thinking about confiscating my homebrew supplies for your own pleasure, Mayor Bloomberg, think again).
But the whole region's wine production came to a screeching halt with the arrival of Philloxera at the end of the 19th century and the vineyards fell into disrepair and sat fallow until finally being replanted in the 1950's.  True greatness became possible, however, when superstars like Barbier and Palacios brought their exceptional talent, bold vision and rich wine making pedigrees to the region in the 1980's.
The wines mostly center around the red Garnacha grape ("Granache" in other countries) and are rich, concentrated and intensely alive with minerality from the slate-rich soils.  Oak is used judicially and is not the centerpoint as it is in Rioja.  Terroir-driven and true labors of love for those who work the rocky hills, Priorat wines are worth the finding and worth the price.
And, to my freewheeling, travelling friend:  thanks for rubbing it in that you're drinking your way through Europe.  But know this:  with each passing day, i grow closer to my own fateful meeting with the hills of Priorat…
And until then, fair explorer, keep drinking the good juice and don't forget to change your socks.  You have incredibly aromatic feet.  And not in a good way.
Some wines to check out: