Principio (100% Ciliegiolo), Antonio Camillo, 2008, Tuscany
(13.5% Alc)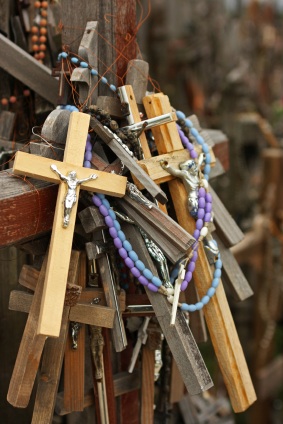 "Hey, after you go in search of God, can you bring me back some vines?"
And so it was that an obscure grape varietal named Ciliegiolo left its home in Spain and came to rest in Tuscany.  Or so its rumored…and only God knows the truth.
Walking the pilgrimage from Italy to Spain is hot.  Brutally hot.  Your feet are covered in blisters.  All along the rocky path, you see people in various states of prayer, some half-conscious, others chanting quietly (sort of akin to a Grateful Dead show's whirling denizens in various states of transcendence).  And then, out of nowhere, a mad hermit, with a look of possessed reverance bordering on the maniacal, hands you a vine with the instructions, "spread the love".  And with that, he is gone.
You look down to see a scraggly grapevine in your palm, seemingly just ripped from the earth.  You have no choice.  It is now your mission.  You carefully pack it in your knapsack and continue the long pilgrimage.  A couple of weeks later, your body many pounds lighter, you pull the vine from your bag.  Barely alive and in need of some serious prayer, you plant it in the earth outside your home.  And thus, Ciliegiolo finds a new home in a new country.
For thousands of years, Christians and adventurous souls alike have been trekking a route called the Way of St James to reach the Cathedral of Santiago de Compostela in Northern Spain where legend has it that St James' remains were carried here by boat from Jerusalem.  And its on this same path that some blessed soul is believed to have brought the Ciliegiolo vine from Spain to Italy.
Ciliegiolo ("cherry" in Italian) is one of those rare grapes that you'll rarely find, and rarely find in its purest form.  Often blended with Sangiovese (and thought to be possibly be a parent of Sangiovese), Ciliegiolo is rarely found outside of the regions of Umbria and Tuscany where it is a minor blending grape in the wines of Chianti.  But not always…

In the hills of Maremma (home of the Buttari, the famed cattle ranchers), near the southwestern border of Tuscany, you'll find winemaker Antonio Camillo. His is a beautiful land near the Tyrrheanian Sea where modern tourists mingle with ancient traditions.  Owning a mere five hectares of vineyards, Antonio lets the earth do the talking and gets out of the way of his grapes' song.  It is a song of the land and a song of the spiritual.
His Principio is made from 100% Ciliegiolo grapes from 40-year-old vines.  Medium bodied, the Principio is dry on the palate with notes of cooking spice and cherry that hit your mouth with such vibrancy that your tongue lights up with the sensation of life.  In fact, my entire tongue seemed to be possessed by some higher power.  What a sensation, I thought.  Is it the spirit of St James?  Perhaps…but only God knows the truth.