Year: 2050
"Grandpa, what's that?"
"Well, that's a wine bottle, honey"
"A what?"
"Yes, my wine-loving child, a 'bottle'.  You see, before kegs, people put wine in these silly, heavy bottles.  But then along came Charles Bieler and Bruce Schneider.  They started a company called Gotham Project Riesling in 2010 that changed everything."
"Wow, Grandpa.  Charles looks dreamy in all those old digital photographs!"
"He is my darling, and I'll tell you what, Bruce is still quite the lady's man."
Today, Gotham Project Riesling is changing the world one daring restaurant and wine bar at a time by proving that world-class wine can come from a keg.
And to celebrate this notch in time, we unwittingly put together one of the most ridiculous and vulgar videos of the first glass to be poured from the taps at Terroir | Tribeca.  It's 8 minutes that descends into madness.
(Oh, and little Sally, you may not wanna watch this.  It gets a little graphic…)
But first, I recently interviewed Charles Bieler about their bold endeavor.
INTERVIEW WITH CHARLES BIELER OF GOTHAM PROJECT RIESLING
What current projects are you involved with in the wine world?
Ah man, I'm almost embarrassed to admit how many projects and how many countries. This is going to sound ridiculous, and it probably is, but here it goes: FRANCE (BIELER PERE ET FILS rosé , and LOU BAR ROU rouge – both partnerships with my father). ARGENTINA (The Show malbec – a partnership with Joel Gott, Roger Scommegna, Trinchero). CALIFORNIA (The Show, Three Thieves, Bandit – all with a partnership I have with Joel Gott, Roger Scommegna and Trinchero Family Estates). WASHINGTON STATE (Charles & Charles, a partnership with Charles Smith), MEXICO (Sombra mezcal – a partnership with Richard Betts) and now NEW YORK STATE (Gotham Project Riesling – a partnership with Bruce Schneider).
How did you and Bruce meet and how did the idea evolve?
I live in NYC and have always wanted to do something that didn't require getting on a plane and flying somewhere far away! I actually originally reached out out to Bruce to talk about his Potato Barn brand that I felt had more potential than what I was seeing.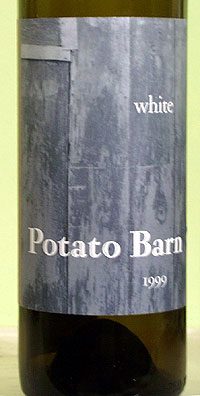 As conversations often do, over time the ideas evolved into something totally different – kegs and the Gotham Project. The ideas of kegs had been rattling around in my brain but to pull it off with NY wine I needed someone to help me as I didn't have any contacts.
Bruce has been making some of the very best NY wines for the past decade and so he was the first call. His answer was an immediate, "hell yeah, let's do it".
Who are the people involved in Gotham Project?
The Gotham Project is a 50-50 venture between Bruce and I but with important supporting roles from Steven Solomon (who is helping with all the graphics and over all branding) and Jim Neal (who has been invaluable on the production side of kegging). The team at Michael Skurnik Wines has also been super helpful tasting consultants.
How did you decide on Riesling?
First of all, we LOVE riesling but more importantly, from my perspective riesling is the wine that NY State does best and can best compete with the rest of the world with. We want to offer wines that just aren't delicious but are priced to compete with the very best in the world at their price points.
What was the process like in sourcing your juice?
Through the relationships Bruce has fostered with New York State wineries and growers over the last decade Bruce knew immediately where he wanted to zero in – east side of Seneca Lake.
What are your thoughts on the Finger Lakes as an overall region?
I'm really impressed, particularly with riesling. Especially in a vintage like 2009 where there was so much rain there was a plight issue with potatoes and tomatoes. I'm amazed what many were able to pull off.
Where do you get the kegs?
We buy our kegs from a German manufacturer called, FRANKE
How many other companies are involved with wine-in-a-keg projects?
In the San Francisco bay area there are quite a few wineries making kegs for restaurants but there are only a few companies focused just on kegs. While a few companies are looking at a national keg program, with The Gotham Project we are only focused on selling into only NY/NJ/CT for now
Are other countries experimenting with this type of wine vessel?
There must be some others doing it but I think it's on a very small scale.
Where do you see the future of kegged wine going?
I expect that for the next 6-9 months there will be a lot of people on the side lines watching (both restaurants and wineries) and as people see that it can work, there will be a big expansion, especially in metro areas.
As new simpler and inexpensive tap systems become available that will also help the smaller restaurants who don't have taps or limited taps. I expect that we will see retailers and caterers getting involved as well. I don't think it will get as big as beer kegs but there is no reason why it won't become much more common to see wine on tap.
Any thought of doing different varietals?
Yes, we are developing a sparkling wine to release this fall. More on that later.
Why are kegs important?
There are three key reasons. Firstly, by using a reusable container and eliminating the cost of glass/corks/foils/boxes and filling in bulk, we can reduce our cost of goods by about 20-25%. That's real savings.
In using a larger format reusable container we create no new waste (the reduce and reuse part of the three R's).
And lastly, wine in kegs with the proper gas systems are protected from oxidizing so for wines by the glass, the wines stay fresh for months. So often resturants will either face the decision of either serving oxidized wines by the glass or throwing it away.
And now, ladies and gentleman, for your viewing pleasure, a little video of our renegade crew at Terroir | Tribeca in action with the keg: