There's some funky shit going on in the US craft beer scene, and one brewery is leading the charge.  Located far from the usual suspects on the West coast, the East Coast and the Colorado beer belt, one must travel to the tiny town of Dexter, Michigan (population of around 3,000), to find Jolly Pumpkin Artisan Ales. They are jamming in a bold direction that has beer geeks atwitter from coast to coast.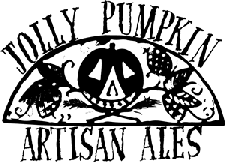 After hearing about them a few months ago, and then seeing them top the NY Times' list of top Belgian-style ales with their Oro de Calabaza, I was desperate to get my palate wet with its liquid gold.  And once anointed with its funkiness, I ordered a case immediately and had it sent to the restaurant for next day delivery.  I was bridled in like a chariot rider to his wild stallion and became an instant advocate.
Whereas most brewers' number one concern is eradicating all microbial beasties through intense sanitization, Jolly Pumpkin embraces the wee devils like an orphanage welcoming castaways in the night.  In an ever-increasing niche in the beer world, wine barrels are finding a second life in a beautiful communion where wine meets beer.  And the matchmaker at the helm?  Ron Jeffries.
Founding Jolly Pumpkin in 2004, Ron was looking to go in a different direction.  Having been a successful brewer previously, he set his new sail under the banner of doing "rustic country beers".
Never putting his beers through pasteurization or filtration, Jolly Pumpkin ages them in wine barrels which contain naturally-occurring microbiological cultures including Brettanomyces (a yeast strain familiar to winemakers).  This gives wild flavors to the beers usually described by such delightful terms as "sweat", "horsehair", "sour" and "earthy funk".
These are certainly not the type of beers to pour for your Budweiser-drinking friends who are curious about the "whole craft beer thing".  Trust me, without proper pre-requisite palate training, these beers will send them running for the hills and back to their Miller Lites faster than you can say "funky chicken".
Using open fermentation, a cultured Belgian yeast, as well as the wild yeasts of Dexter, the Oro de Calabaza is finished in Chardonnay barrels.  For a wine and beer geek like myself, it's the perfect union.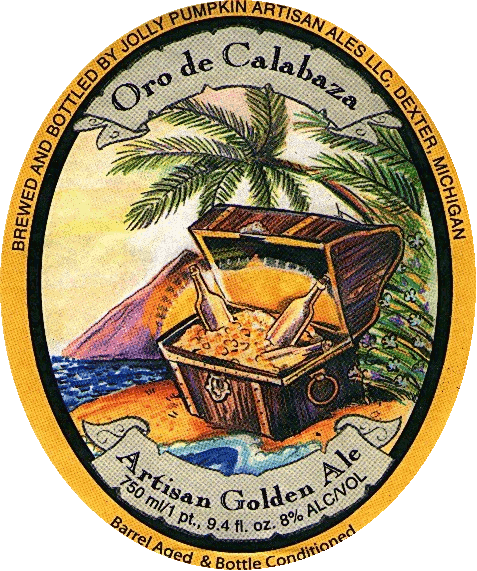 Pouring cloudy and hazy with an intense foaming head that unfurls from the bottle like a frothy centipede, notes of spicy honeysuckle and buttery oak seem to be wrapped up in a tortilla of fresh fruit which jumps from the glass.  With a sourness that'll slap you into the moment, it finishes with balance and an integration of flavors that is astounding.
This is no beer for beginners nor for those looking for a forgettable, session-able beer to down at the ballpark.  No, this is a beer for those looking to taste the whole cadre of Belgian flavors in one bottle.  A genie of funk rises forth that will hypnotize you and turn you into the helpless zealot that I've become.
Onwards, wild stallion, onwards!