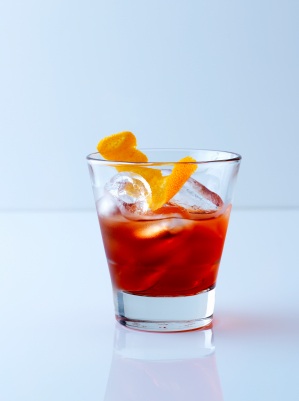 Originally created in Florence at the Baglioni Hotel in the 1920's, the Negroni was the regular drink of a bar customer named Camillo Negroni.
Italians are nuts about bitters and Camillo couldn't get enough of the mouth-watering sensation of Campari.  So much so, that his name lives on in bars around the world.
Campari is an aperitif made by infusing bitter herbs, aromatic plants and fruits into alcohol and water.  It gives an unmistakable zip to your drinks and snaps your palate into attention like a Tuscan drill sergeant.  (Or at least one wearing a velvet glove while slapping you across the mouth).
The perfect time for this drink?  Now!  Or before a meal.  Whenever you feel your palate needs a good wake up call, just play this military revelry on your trumpet.  Here's how…
Part and Parcel
1 ounce dry gin
1 ounce Campari
1 ounce Sweet Vermouth
Filling the Bill
The Negroni is traditionally served either on the rocks or straight up.  For the rocks version, simply pour the ingredients over ice in an old-fashioned glass, give it a nice stir, twist a small piece of orange peel over the drink for some aromatic heaven and then use for a garnish.
To serve straight up, combine the ingredients in a mixing glass, fill with ice and stir for a healthy 20 seconds.  Strain into a chilled martini glass, twist a small piece of orange peel over the drink for aromatics and use for a garnish.