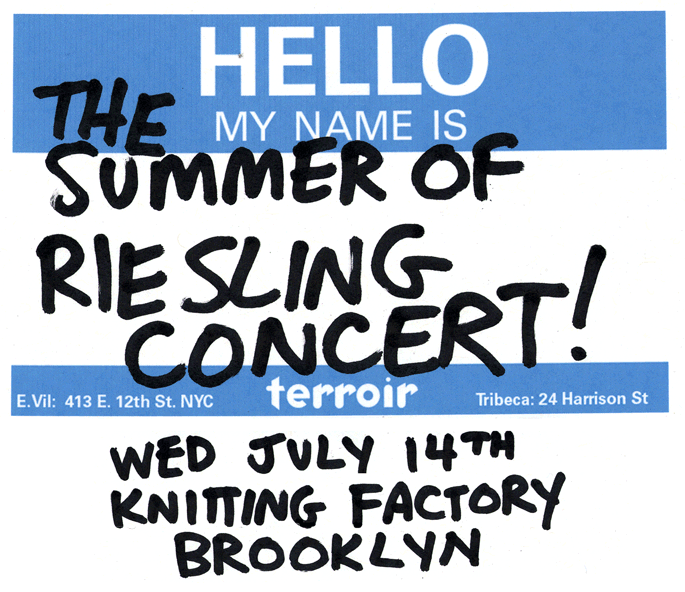 $30 (Includes 4 glasses of Riesling)
$15 (Music only) 
Prepare yourselves for an event that will change lives, hearts and minds. 
Four amazing bands chosen for their high acidity, elegant concentration of fruit and incredible sense of place. 
The Bands: 
(Click their names to hear why you don't wanna miss this): 
*Himalaya: Mosel Kabinett levels of subtle, pulsating rock that will sneak up on you melt away your resistance. Give in, baby! 
*Nouvellas: Tambourines, soul and harmonies like Dr. Frank's dream of Finger Lakes Riesling reaching its full potential and groove. 
*Black Hollies: Paisley, power and pop. This is the Maximum Grunhauser Abtsberg of modern psychedelia. You will be hooked by the residual sugary reverb hooks but addicted by the acidic backbeat. 
*Lights On: Excited jangly guitars from San Diego. Like a Rheingau Auslese, balancing unctuousness and tropical fruit from warmer regions with firm structure. 
**Tickets available at the door or here: BUY TICKETS NOW 
The Rieslings: 
Old World 
Merkelbach Riesling Kabinett Urziger Wurzgarten #11 (Germany)
Mittnacht Riesling 2009 (France)
Gobelsburger Riesling "Gobelsburger" 2009 (Austria)
New World 
Wiemer Riesling 2007 (New York State)
Cave Spring Riesling 2008 (Canada)
Pacific Rim Riesling 2008 (Washington State)
Glen Eldon Riesling 2006 (Australia)
Gotham Project Riesling in keg 2009 (New York State)
(Glasses of Riesling will be $5) 
Knitting Factory
361 Metropolitan Avenue, Brooklyn 
We anticipate your attendance eagerly and with notes of petrol and slate.