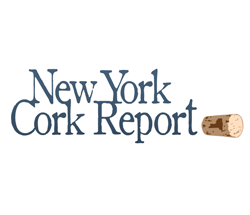 Dearest readers, I am stoked to share some exciting news with you.  In addition to my vinous, brewish and libatious duties here at Grapes & Grains, I am pleased to announce that I will be expanding my reach further into the realm of the blogosphere…
I have been invited to join the staff of the New York Cork Report as their "NYC Correspondent".  I will be covering local breweries, urban wineries and NY-state spirits.  
Also, my usual forays into underground gambling rings, heroin trafficking, cock fighting and muscle-car drag racing will, of course, continue.  Hey, a guy's got to follow his passions, right?  Right?!  Who's with me?  All hail the V8 engine, suckas!
If you're not yet familiar with Lenn Thompson and the crew over at New York Cork Report, you need to get them on your radar screen.  For the last two years, they've taken home the gold at the American Blog Awards for "Best Single-Subject Wine Blog" because of their solid dedication.  
Their writing and reviews are tight, their editorial content is opinionated and challenging, but most of all, they are passionate about showcasing the unique people and products that the great Empire State has to offer.  I'm stoked and honored to be part of the team.  
And thankfully, I can keep up my cockfighting on the side.  I've been training this new bird that's sure to win me a ton of Hamiltons…
Some links to check out:
New York Cork Report Home Page
Staff of the New York Cork Report
David Flaherty Joins NYCR as NYC Correspondent
NYCR Named "Best Single-Subject Wine Blog" at American Wine Blog Awards