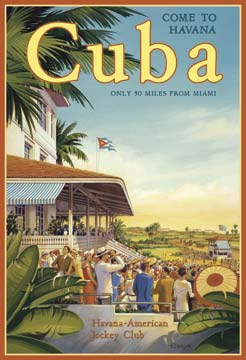 1920-1933.  Prohibition sucked the nightlife out of the scene like one does an oyster from a shell.
But the party raged on…albeit behind secret doors and fueled by often dangerous concoctions of bathtub gins and white lightning.  And so, many American simply crossed the border to Havana, Cuba where the party heated up in broad daylight.
In fact, they came to Cuba in droves by plane and boat, all headed for the sunny climes where the booze flowed freely and one could enjoy a cold cocktail without looking over their shoulder for the boys in blue.
And what to do if your profession was as a bartender when the dry spell hit?  Well, you could always go South, sir.  To Cuba!  A mere 90 miles from Florida, many barkeeps packed their bag and headed to the Pearl of the Antilles.
It is there, according to Dave Wondrich, that an American bartender named Eddie Woelke who was working at the Jockey Club in Havana created this week's classic cocktail: the El Presidente.
Supposedly created in honor of the Cuban president at the time, Gerardo Machado, Eddie was a smart one.  It's always best to honor and thank your host…especially if that host has dictatorial tendencies.  But I digress, this is about cocktails, damnit, not politics.
Using a seemingly simple blend of four ingredients, the El Presidente was a hit and quickly swept its way through the hundreds of bars and nightclubs slinging endless drinks for the insatiable hordes of thirsty Americans.
Popular with the elite and named the "martini of Cuba" by Trader Vic, himself, the drink has nearly disappeared.  It features Rum (of course, it's Cuba, for God's sake) and is mixed with Curaçao, Dry Vermouth and Grenadine.
PART & PARCEL
1.5 oz Rum
3/4 oz Curaçao
3/4 oz Dry Vermouth
1/2 Tsp Grenadine
FILLING THE BILL
Add ice to a tall mixing glass and add the above ingredients.  Get out your trusty bar spoon and stir until cold to the touch.  Strain into a chilled martini glass and garnish with a twist of orange peel.
Everyone loves a good dictator…or at least on the surface.  You never know how many people are sneaking out the back door and headed out to the real party.  Viva la Cuba.