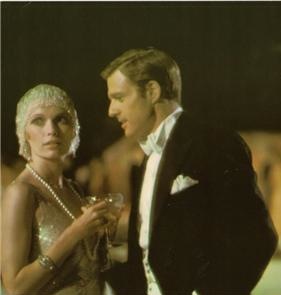 "Daisy had a hint of bedrooms upstairs more beautiful and cool than other bedrooms…of romances that were not musty and laid away already in lavender….It excited him, too, that many men had already loved Daisy – it increased her value in his eyes." – F. Scott Fitzgerald, The Great Gatsby
I've read The Great Gatsby many times over the years.  It remains one of my favorite books.  The style of the writing, the time period, the heartbreaking blindness of Jay Gatsby and his foolish quest to win Daisy.
The more I've read it, the more I care less and less about Daisy.  For she is not so much a character as what Gatsby thinks she is.  She is a blank palate upon which he places his dreams.  He sees himself in her eyes.  And if he can impress her, he can love himself.  It's tragic, but we've all been there.  This week's classic cocktail is for you, Jay.
The Daisy is not so much a cocktail as a 'family' of cocktails.  It is a basic formula that the bartender can paint upon, can tweak into a new image, can look back upon and see himself in.
First created sometime in the 1800's, the Daisy was a spin-off of the Sour (spirit, citrus, sweetener), originally using orange cordial as the sweetener.  But that didn't last long, and the Daisy was swept up by another's imagination, and by the 1900's, Grenadine became the sweetening agent of choice.
Grenadine is a unique sweetener and can be made by simmering pomegranate juice for fifteen minutes and adding superfine sugar.  It gives drinks a reddish hue and is similar in flavor to blackcurrants.  To finish off the Daisy, one must add a splash of soda or seltzer because she can be a rich one and can do with a bit of fizz.
Here is a classic recipe taken from Imbibe Magazine:
PART & PARCEL
2 oz. base Spirit (gin, rum, brandy, whiskey, vodka or tequila)
1 oz. fresh Lemon Juice
1 tsp. Grenadine
1/2 tsp. Simple Syrup
Ice (cubes and cracked)
Chilled Seltzer or Club Soda
FILLING THE BILL
Fill your shaker with ice and add the spirit, the juices and the syrups.  Shake with confidence like Jay looking out over his mini empire.  Strain into a Julip glass filled with shaved ice and top with soda.  Add a fresh piece of fruit for garnish.
"There must have been moments even that afternoon when Daisy tumbled short of his dreams – not through her own fault but because of the colossal vitality of his illusion. It had gone beyond her, beyond everything. He had thrown himself into it with a creative passion". – F. Scott Fitzgerald, The Great Gatsby
Ah Jay, you're breaking my heart.  I'd say have another drink, but I don't think it'll help…