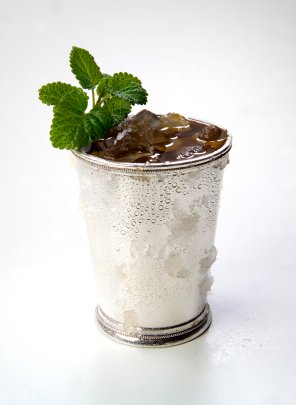 Forgo the hearty breakfast and start your day with a cocktail before plowing the fields.
Who needs an injection of coffee when Bourbon and mint are on hand?  For some hardy southerners in the late 18th century, the Mint Julep was part of their morning ritual akin to shaving and pulling on the trousers.
John Davis, a British author, wrote about his journeys in a book called, Travels of Four Years and a Half in the United States of America which was published in 1803.  In it, is the first known documentation of the "Mint Julep," which Mr Davis describes as "a dram of spirituous liquor that has mint steeped in it, taken by Virginians of a morning."
Ahh, the early 19th century was such a gas…
Today, we associate the Mint Julep with something entirely different.  What is it?  Yep, you guessed it:  the Kentucky Derby.  First said to be served there in 1938, today it is estimated that more than 80,000 Mint Juleps are served at Churchill Downs in a two-day period.  That's a lot of minty greenery clogging the trash cans…
To top it all off, and making it one of the most expensive cocktails in history, Churchill Downs sold special Mint Juleps in 2006 for $1,000 each.  They were served in gold-plated cups with silver straws, and were made from Woodford Reserve bourbon, mint imported from Ireland, ice from the Bavarian Alps, and sugar from Australia.  (Proceeds went to charities to support retired race horses).
In its early days, the "julep" was often a vehicle used to help the medicine go down (is this what Mary Poppins really meant?).  Before it's primary liquor became cemented as Bourbon, people are said to have used Brandy, Rum, Wine or Genever (a Dutch gin) along with the mint.  A silver cup was also crucial as getting it nice and frosty adds to its thirst-quenching and palate-awakening potential.
PART & PARCEL
2 to 3 oz Bourbon
1 tsp sugar dissolved in 1 tsp water (or 2 tsp. simple syrup)
8 to 10 fresh Mint leaves
Mint sprigs (for garnish)
Crushed ice
FILLING THE BILL
There's much debate about the best way to make a Mint Julep (a factor that makes all classic cocktails beautifully fun to explore).  In this case, to muddle or not to muddle is usually the point of contention…so you be the judge by tasting.  If you are going to muddle, do it with respect for the mint and don't pummel the hell out of it.  Simply bruise the leaf a bit and rub the leaf around the glass before adding the ice.
If you don't have an ice crusher (how can you live with yourself?), place some cubes in a kitchen towel and have at 'em with a mallet or rolling pin.  Add the ice to the glass, then the sugar mixture/simple syrup and then the Bourbon.  Top with the mint leaves and serve with a small straw (to allow the nose to be close to enjoy the aromatics).
Thank God, a chance for me to finally whip out my silver glassware.  Look out, ye blood-suckin' vamps.