"Don't do it, man.  It's not worth it".
The advice was succinct and deadening to my soul.  Enough to take the wind out of anyone's sails.  But we decided to push on.
Last month, the idea hit my wife and I to trick out our Saison homebrew recipe and do something a little different, something a little off the beaten path.  I mean, that's where the interesting parts of life lie, right?  Green chilies popped into our minds.
The play between the lemon zest, the spicy notes of the yeast, the refreshing drinkability of the wheat would go perfect with some heat.  It seemed inspired.  But we'd never brewed with chilies before…
I turned to the Beer Advocate homebrewing forum for advice.  My question was simple: "Hi, looking to brew a Green Chili Saison, anyone recommend when to put the chilies into the equation?  The boil stage?  In the secondary fermenter?"  What I got was an instant response of disgust and a heaping spoon full of vitriol.
The answers went something like this:
"I started gagging just thinking about this"
"Are you sure you want to put green chilies in a Saison (gag)?"
"What makes you think that will be a good combination?!"
I explained my stance: the inherent spiciness of the style might go well with a touch of pepper flavor and a little heat.  But only enough that still lets the beer flavors come through.
I became nervous and questioned the venture.  If I was going to waste hours upon hours of time, and have to pour out another five gallons of beer (see video here), I wanted to know if this was truly a shitty idea.
It was then that a few brewers came to my rescue.
"Don't pay attention to the naysayers.  It's homebrew, have fun with it and experiment.  I think it'll be tasty"
Another said, "Brew for yourself."
Fuck yeah, I thought, screw the naysayers.  So when someone sounded off, "Don't do it, man.  It's not worth it", I was revved up.  We had begun the journey into Chili-dom.
First stop was the local market where I grabbed a can of 'green chilis', which I took up to the produce guy and said, "Do you have these fresh?"  He did.  They were Serrano Peppers.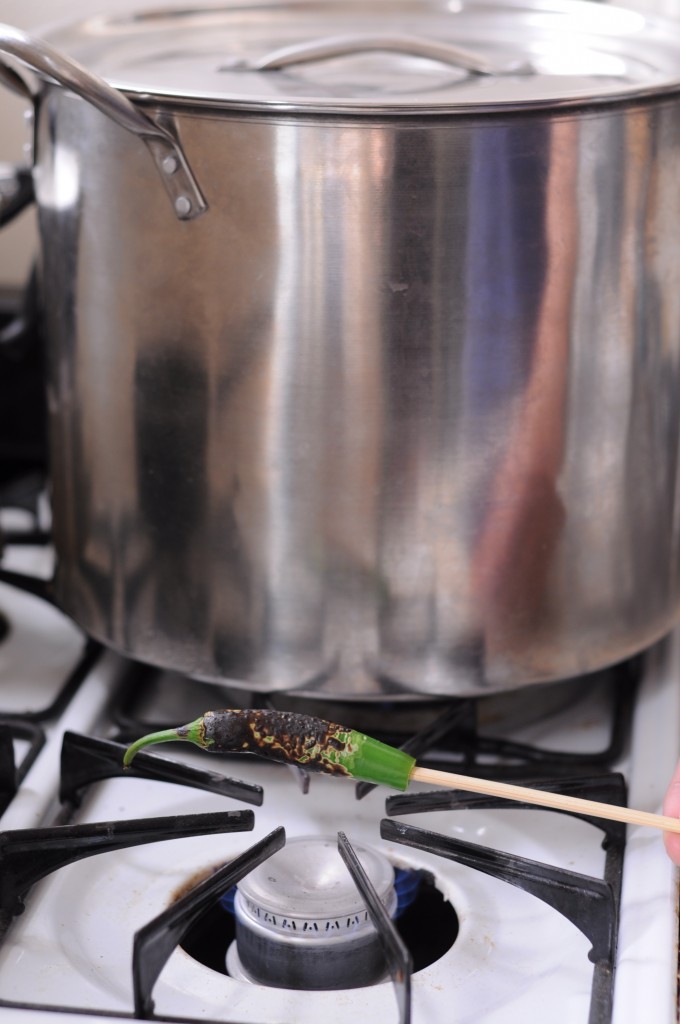 I took a chopstick, speared them down the center and roasted them over the tiny, stove-top burner of our mini Barbie kitchen.  After the skin was blackened, I sealed them in a Ziploc bag and let them steam.  The skins were then easy to remove, and I cut into the peppers and removed the seeds and ribs.
I put two of these spicy devils into a hop-sock for the final five minutes of the boil (along with the aroma hops) and we were off and running.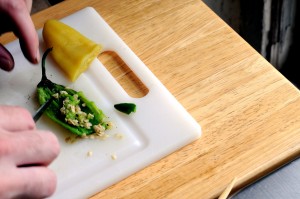 Fast forward three weeks.  We popped the top on our newbie baby's bottle and nervously took a sniff.  Holy shit, I thought.  If this is as good as it smells, then this is gonna rock. And, ladies and gentlemen, it does.
The recipe:
1/2 lb Belgian Pilsner Malt
1/2 lb White Wheat
1/2 lb Flaked Wheat
1/2 lb Aromatic Malt
4 lb Wheat Extract
4 lb Extra Pale Extract
2 oz Tradition Hops
1 oz Hersbrucker Hops
1/2 Crushed Paradise Seeds
2 tbls. Fresh Lemon Zest
Belgian Style Saison Ale Yeast Blend 568
Along the way, we elicited suggestions for the beer's name.  Here were our favorites:
Saison Verde
There is a Saison-Burn, Burn, Burn
Throaty Assfire
The Scoville Project
Summer Dragon
Vert Bacharach
Hot Lips
Summer Heat
But in the end, we decided to just call it:  The "Don't Do It, Man" Green Chili Saison.