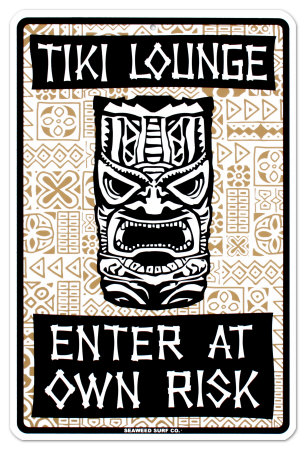 All the birds sing words and the flowers croon.  In the Tiki, Tiki, Tiki, Tiki, Tiki Room.
That's how the song went.  And really that's all I remember of the words, but the Enchanted Tiki Room at Disneyland still sticks with me vividly.  Images of singing robotic birds, steamy jungles and Polynesian gods made into animated rock sculptures is transfixing.  I remember the whole feeling of the place as so otherworldly and, yep, a bit terrifying.
But I'm not alone.  Americans have been strangely fixated on Tiki culture for quite some time.  And over the years, resurgences have come and gone.  Lo and behold, 2010 is proving to be the start of another tidal wave of fascination as a number of serious cocktail joints have opened in NYC paying homage to the realm of the tiki drinks (check out Painkiller and the soon-to-open The Hurricane Club).
As we move into the final couple of weeks of summer, it only seems appropriate for you to whip out the flowered shirt, pull out the tiki mug, pop the cassette tape of Elvis' Blue Hawaii in the VCR and invite your friends over for a Luau.  In honor of the thousands of shrunken heads tucked away in closets, I give you the Mai Tai.
Two men are responsible for the creation of this incredible drink…well, one is in reality, but the war is heated as to exactly who it was.  Without going into a thesis on Tiki culture and how it swept through the US after World War II, it helps to know this:  In 1934, Ernest Raymond Beaumont-Gantt opened the first-ever Polynesian-themed restaurant/bar in Hollywood named Don the Beachcomber.  Later that same year, Victor Bergeron opened Trader Vic's in San Francisco.
Both men were inspired by their travels through the South Pacific and were fascinated by the exotic Rums they came across.  In 1944, Victor Bergeron is said to have created the Mai Tai.  BUT, Ernest (aka "Donn Beach") is credited with first adding flavored syrups and fresh fruit juices to make exotic Rum punches.  He was pissed that Trader Vic's would take the credit (but hopefully my wee mention of his contribution will help calm his fury).  The reality is, Trader Vic's went on to restaurant chain glory and brought with it their version of the Mai Tai.
Listing all possible variations of this cocktail may just bury me in a desolate corner of quicksand surrounded by maniacally singing birds, so I'm going to stick with what many consider the superior version of this drink.  It is a dazzlingly unique cocktail, and with its combinations of tropical flavors is sure to transport you somewhere far away.  I hope the Tiki Gods will approve.
PART & PARCEL
2 ounces Jamaican Rum (try Appleton Extra; for a more authentic version, substitute 1 ounce of an aged rum such as Rhum J.M Vieux 1997 for 1 ounce of the Appleton)
1 ounce of fresh Lime Juice
1/2 ounce Curaçao
1/4 ounce Orgeat Syrup
1/4 ounce Rock-Candy Syrup (simple syrup with a drop or two of vanilla extract)
FILLING THE BILL
Pour all ingredients into a mixing glass and fill with ice.  Shake for a good 10 seconds while singing a verse from the Enchanted Tiki Room.  Strain over crushed ice in an old-fashioned glass and garnish with a lime wedge.  Your call on adding the pineapple hunk, the umbrella and the cherry.  If you are using the version with the aged Rum, try floating that on top after the drink has been poured.
We hope that it fills you with pleasure and glee
Because if we don't make you feel like that
We're gonna wind up on the lady's hat
(from the Enchanted Tiki Room)