La Lettre à Élise (100% Chenin Blanc), Domaine Mosse, NV, Loire Valley
(13.5 % abv)
I'm a ridiculously huge fan of the whites from the Loire Valley.  Just as Pavlov's dogs salivate at the sound of his bell, simply saying the words "white" and "Loire" in the same sentence around me will cause feverish sweats of desire and intense mouth-watering.  It is not a pretty sight.  Quite embarrassing, in fact, and I am now forced to carry a slobber towel at all times.
Agnès and René Mosse have followed an interesting path.  Originally owning a wine bar/retail shop in Tours, many great winemakers came through their door.  Over time, they were bitten by the bug themselves and left that world to study viticulture and winemaking with some of the best in the business.
After two years at the agricultural lycée in Amboise, they set off through the French countryside and worked the prized fields and wineries of the Côte-de-Beaune.  Armed with this knowledge, it was time to stake their own claim.  They returned to their home base in the Loire Valley and bought a small estate in St-Lambert-du-Lattay, in the Coteaux-du-Layon area of Anjou.
From the moment they first stuck their shovel in the soil, they've used organic viticultural techniques and treated the vines and earth with biodynamic preparations.  The "natural" winemaking continues in the winery and they make as few manipulations of the wine as possible and only reach for the sulfur when absolutely necessary.
In this case, their years of slinging bottles followed by earnest study and hard work have paid off.  This is the first wine I have had from them, and it is a tasty one.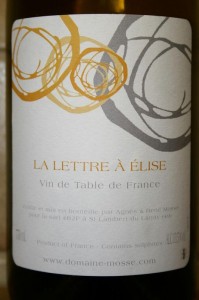 As with the majority of Chenin Blanc from the Loire, the aromatic notes of the La Lettre à Élise are hypnotic.  With a nose reminiscent of a wildflower meadow just after a quick summer rain, I then experienced buttered popcorn rolled in honeysuckle and green apple.  On the palate, it's a medium-bodied wine with similar notes as on the nose, but with the addition of a delicious creamy nougat and a hint of turpentine on the back end.
Chenin Blanc is a great grape, as (in the right hands, at least) it provides a juicy wave of acidity akin to a ride on the log flume at a waterpark.  The La Lettre à Élise is no exception.
I'm thrilled that the Mosses have found their groove in the Anjou.  I can now add the word "Mosse" to the list of words that turn me into a salivating, desirous beast…
**To find this wine near you, contact Louis Dressner Selections HERE