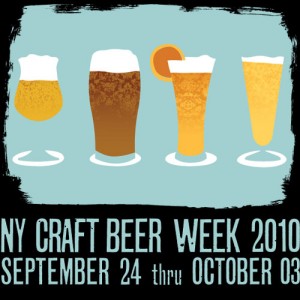 NY Craft Beer Week is afoot, gumshoes. Lurking in every alleyway, creeping around each corner and looking to take you over like a bedbug does your sheets.  
It's off and running.  Officially beginning last Friday, you've got seven days left to attack the streets with a penchant for hops and malt, a hunger for conviviality and a fever for action.  
In it's third incarnation, NY Craft Beer Week now cloaks gotham in a sudsy foam that grows bigger each year. With over 100 beer destinations involved and 30 top-notch restaurants reined in for your pleasure, it's time for you to get off your ass and out the door. It's for the love of craft beer, baby.  
For the first time, Hearth Restaurant (my East Village bastion of employment) is in on the action. Teaming up with Fire Island Brewing Company and Edible Manhattan magazine—using local ingredients as part of their Eat Drink Local Week Campaign—we've created a 3-course menu with beer pairings sure to knock your socks off (see menu below).   
And at $40/person, this just may be the best deal you'll ever snarf down in the city.  
Here's a link to more info on who's involved, what's shaking and where to get your piece of the prize:  NY Craft Beer Week Official Site.   
And if you're interested in joining us in the East Village, here's a look at our menu: