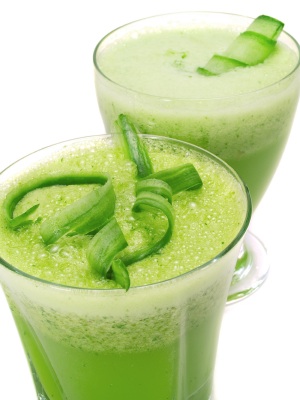 The request was odd.  Create a cocktail for a friend's baby shower.
Aren't baby showers supposed to be about silly games, endless cupcakes and a relentless procession of swaddling devices?  And what fun is a cocktail if baby momma doesn't get to enjoy it?
I put the Jack LaLanne juicer to work.  You remember him—the overly energetic geriatric in skin-tight clothes doing the infomercials interspersed with pictures of him pulling various locomotives and tugboats with his strength alone?  All powered by the glory of fruits and vegetables?  What evolved was the "Mommy's Final Push".
The Mommy's Final Push has a dual meaning (the heart of all cleverness, right?)  Using the final fruits and vegetables of the summer season (mother nature) to support my friend, Clayton's, final month of pregnancy (the other mommy), I hit up the vegetable market and started concocting.
This was the final recipe sent through the Jack's Juice Annihilator:  4 cucumbers, 3 pears, 2 yellow peppers and 1/2 lemon.  The juice was diluted with water (to taste) and I added about 4 ounces of simple syrup.  It was ready for mommy.  But for those of us not carrying a little one in our baby box, we would need some booze to liven it up.
I tried the drink with 3 spirits: Vodka, Gin and Soju.  The winner?  Soju.  What the hell is that, you ask?  Well, unless you are Korean, you probably have never seen nor heard of it.  (I, in fact, ended up with a bottle when a friend in the wine biz bailed to the UK and downloaded her liquor and wine cabinet on her friends.)
Soju is a spirit similar to vodka that has been made in the Koreas since around the 13th century.  When the Mongols invaded, they brought with them their recently acquired powers of distillation—they had picked it up from the Persians who were making Arak (an aniseed-flavored distilled alcohol drink).  Originally made only with rice, Soju can now often be found to be made with rice and a blend of barley, sweet potatoes or tapioca.  Remember people, where there is starch, there can be alcohol.
The Soju added a hint of sweetness to the drink and allowed the delicate cucumber and yellow pepper flavors to come through.  By not adding the soju into the drink before serving, our pregnant host didn't feel left out.  She, too, could taste the summer's final push as she prepares for her own.
Cheers to you, Clayton, and be it boy or girl, may it be hearty and full of life.  Just keep him or her away from the Soju for a little while…