Oude Geuze (lambic), Drie Fonteinen, Belgium  
(6.5% abv)  
Last night, one of my co-workers asked me what my favorite beer on our list is.  
I was paralyzed.  Whoa, choose one?  But these are my babies and they're all unique in their own way!  How could I possibly zero it down to one?  I felt like I was a kid again in front of my grandma's ridiculously overstuffed toy drawer being told I had to choose one toy for the afternoon.  
But, if I had to, if I had to, I'd go with what I think is the most interesting beer on the list right now.  The Drie Fonteinen Oude Geuze.  Not so much a beer, as a slap across the face.  A 2×4 of sensoral awakening.  It is a mind trip and a walk down the wild side of beer.  
Ladies and gentlemen, I give you:  the Lambics.  Often called "sour" beers, Lambics hail from the Pajottenland region of Belgium.  Everything you've learned about modern breweries—intense cleanliness, maniacal sanitization—all gets flipped on its head when you enter the lambic brewery.  Spider webs, dirt, bacteria, used barrels—these are gold for the lambic brewers.  It's said that sweeping and cleaning is completely frowned upon, as this is where the bacteria live.  And bacteria is what these beers are all about.  
If there is terroir in beer, it is here.  Again, contrary to everything you know about brewing, lambic beers are made by spontaneous, open fermentation.  The unfermented beer is left uncovered in large vats, completely exposed to the air, and vents at the top of the brewery are opened to allow the ambient yeasts to enter the brewery.  It is these yeasts which cause the fermentation and add their own unique signature to the beer.  Once begun, the fermenting beer is syphoned into oak and chestnut barrels to age (for 1-3 years) and continue it's journey.  Soon, it meets one of the most cherished (and feared) yeast strains in the beer and wine world: Brettanomyces.  It is from the 'Brett' that Lambics get their signature sour, barnyardy flavor and aromas.  
Lambics are then blended by expert tasters just like the great wine blenders of Champagne.  As each batch of Lambic can be wildly different—and take on different characteristics as time goes on—it is the blender's job to create the final flavor.  This is how the Kriek and Geuze styles are created.  To augment the often sour flavors of these beers, the Belgians will sometimes add fruit to the beer which causes another fermentation and results in a dry beer with a fruit component.  In the case of Geuze, one, two and three-year old lambics are blended together (no fruit is used).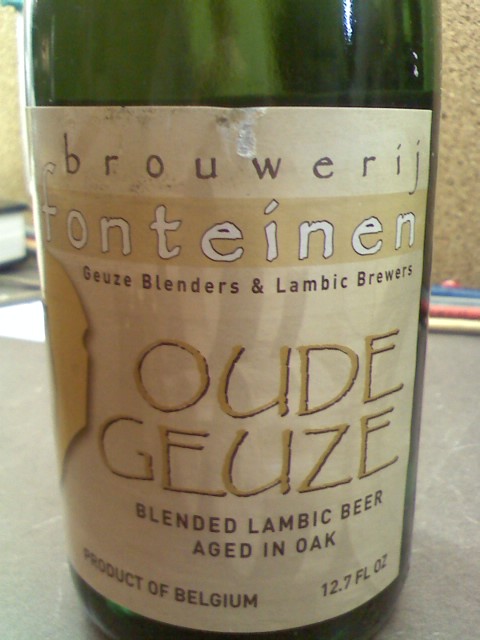 Drie Fonteinen is one of the few remaining traditional geuze blenders, and uses 100% spontaneously fermented lambic and no artificial additives or sweeteners.  This beer is not for the faint of heart.  On the nose, one is greeted by a strange aromatic wonderland of funky, sweaty lemonade that's been infused with gym socks.  Not necessarily appealing in description, but trust me, there is something that lures you in with its hypnotic charm.  On the palate, it wraps your mouth in a sour choke-hold that reveals a vast complexity of flavor.  Your mind fights to identify the myriad of flavors and sensations.  It reminds me of eating hot peppers; your body screams with the endorphin rush but after a moment of release, you're craving more.  
Lambics are the big leagues of beer.  This is where the diehards head to experience a new realm of possibility for beer.  They are in a category of their own.  Wild mustangs on the prairie fighting to be tamed.  And, in my mind, the Drie Fonteinen Geuze remains the wildest, most transfixing beer in my stable of prized beauties.  
Just be sure to strap your saddle down real tight before tasting.