We live in a wild world here in the city, and it's all to easy to overlook what's right at our doorstep.
The state of New York is a powerhouse in the world of wine; to the over 8 million people living in the city, though, the vineyards are far out of mind.
When I first traveled to the North Fork of Long Island—a mere 90 minute car ride from NYC—I felt as if I passed an invisible curtain and the trappings of urban life instantly transformed to bucolic countryside.  Vineyards and apple orchards replaced gas stations and billboards hawking insurance claims.  I was astounded at how close it was and how little I knew about it.
My trips through the Finger Lakes were equally transportive.  The myriad shades of green and rolling hills reminded me of my travels through Ireland in my early 20's.
I've only cracked the surface of learning what lies here in my vinous-filled state, though, so I did some sniffing around the web in search of geeky maps and even-geekier facts to give you an overview of where our juice comes from.  Below is a look at the state as a whole, followed by three of it's major wine-producing regions (North Fork, Finger Lakes & Lake Erie).
So, let's hear it for New York, New York, New York.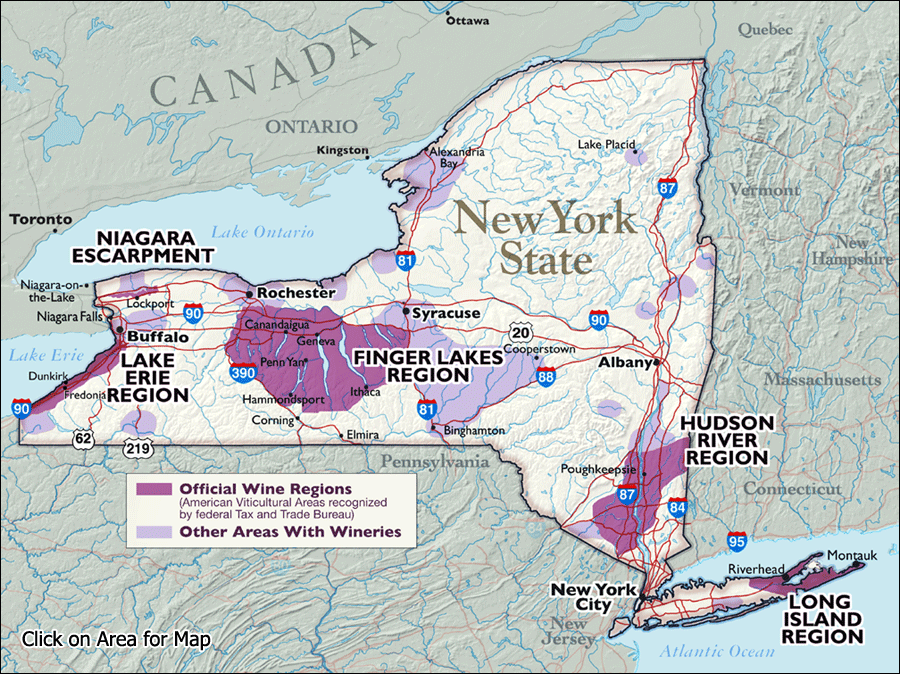 NEW YORK STATE
Ranking: Third largest wine producer in the U.S.
New York has 10 AVA's (American Viticultural Areas)
40 million gallons (200 million liters, 200 million bottles) average annual production (Finger Lakes 85%, Hudson River 10%, Other 5 %)
Wineries: 255 Statewide (Finger Lakes- 96, Hudson River Region- 37, Long Island-50, Lake Erie- 18, 7 in the Niagara Escarpment and surrounding area, Other- 47)
Average Crush:  160,000 tons of grapes from about 950 growers
Gross Wine Sales:  Over $420 Million
Employees: About 3,000 at wineries; about 12,000 in vineyards
1647-1664 Grapes planted on Manhattan Island by the Dutch.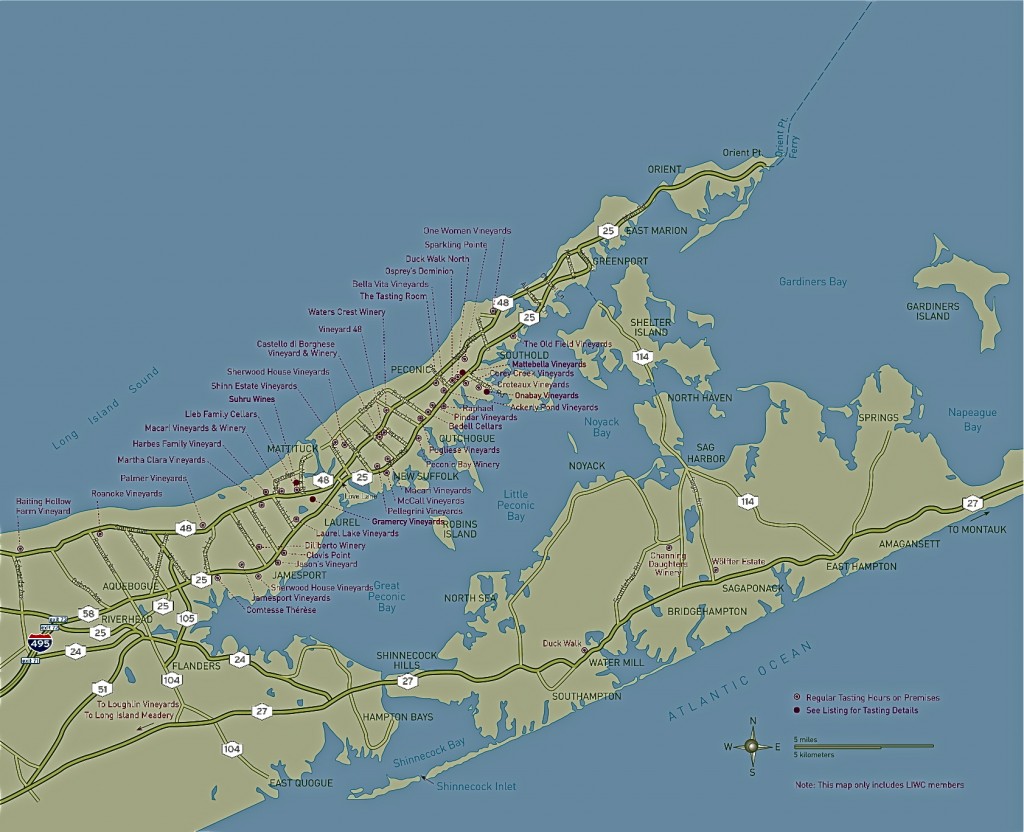 North Fork of Long Island
NORTH FORK OF LONG ISLAND
Date established: October 10, 1986
Acres of vineyard: Approximately 1,830
Bonded wineries: 39
Growing season: 233 days
Located within the Long Island AVA; characterized by the long growing season and unique meso-climate produced by Long Island Sound and Great Peconic Bay.
FINGER LAKES
Date established: October 1, 1982
Acres of vineyard: 9,341
Bonded wineries: 96
Growing season: 190-205 days
Characterized by the "lake effect" meso-climates along several of the glacier carved Finger Lakes, the "air drainage" of sloping hillsides, and glacial soils conducive to drainage.
LAKE ERIE
Date established: November 21, 1983
Acres of vineyard: 20,217
Bonded wineries: 18
Growing season: 200 days
Characterized by the temperature-moderating effects of Lake Erie, captured by the parallel Allegheny Plateau
For more information, click on the links below to visit some of the NY wine websites where I found the above facts and maps:
And remember: drink local…Jay-Z would want it that way.