Gouden Carolus Tripel, Brouwerij Het Anker, Belgium
(9% abv)
A wolf in sheep's clothing…yep, that about sums it up.
Belgian Tripels are deceptively smooth and ridiculously drinkable; watch out, though, cause they'll knock you on your ass lickety-split.  Granted, you'll have a big smile on your face, but on your ass, you will be knocked.
Bursting at the seams with alcohol, they clock in anywhere between 8% and 12% abv.  They are not your tailgate party tipple.  Instead, they are a long-established Belgian style that will put a few hairs on your chest.
In the initial stages, the brewer uses three times as much malt as they would for their standard Trappist "Simple".  More malt = more sugar for the yeast to eat = more alcohol.  Finished off with Belgian candy sugar—which gives the beer a lighter body—and enough hops to balance out the sweetness, you've got a rocket-fueled steam engine on your hands that handles like a precision Ferrari.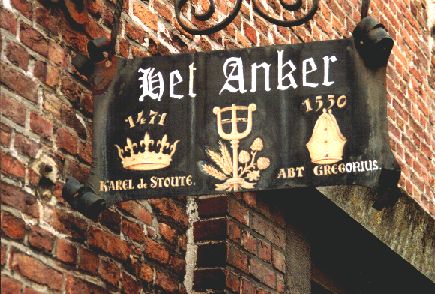 The Gouden Carolus Tripel is a fine, fine representation of this.  It's sleek, it's delicious and you'll notice your glass is empty quicker than you can say, "Gosh, officer, I could have sworn I only had two beers.  How many front lawns did you say I drove through? "
Made by the Het Anker ("The Anchor") Brewery in Mechelin, the Gouden Carolus is named after the golden coins of Charles the Great.  In existence since 1471, the brewery now sports a distillery—their single malt whisky is made from the same malt as the Tripel—and hotel (perfect for wild nights in the tasting room followed by a short stumble to the pillow).
Medium golden in color with hints of caramel, the Gouden Carolus Tripel pours with a huge, billowy white head.  Deceptively delicate on the nose as you move in, your mouth is then hit with a wallop of flavor.  The taste of apricots drenched in clover honey mix with notes of caramel toffy.
But, most surprisingly, the beer tastes light and lifted and keeps you yearning for another sip.  Marshmallow cream and nougat come together with hints of spicy hops.  Wow.  It paired beautifully with Cookies & Cream ice cream (yep, I don't mess around).
You be careful with those Belgian beers that moved in down the block, kids.  They sure have nice manners but there is a devilish look in their eyes, I tell you.  Especially that little Tripel…he's got "trouble" written all over him.  Mark my words.