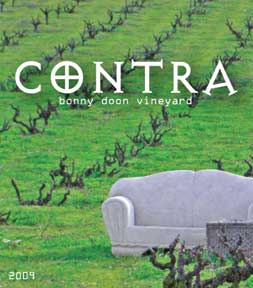 Contra, Bonny Doon Vineyard, 2009, Contra Costa County
(13.5% abv)
At the mouth of Big Thompson Canyon in Northern Colorado, lies a small store that sells Black Bing Cherries.  Juices, ciders, jams, you name it.
The store itself was unmissable; a large red roof over a white building from which hung hundreds of red juice bottles like some sort of bizarre Christmas tree ornaments.
I've always associated the canyon with this strange store—I actually found it today through a Google search—that goes by the name of Colorado Cherry Company.
When I tasted Contra, the latest release from Randall Grahm and company over at Bonny Doon Vineyard, I couldn't get the image of this store out of my mind.  Something about it's flavor profile brought me back to my childhood.
In more ways than one, Randall Grahm is to Santa Cruz, as the Colorado Cherry Company is to the Big Thompson Canyon.  They channel the dirt, the air, the rivers and the soul of their environment through their fruit.  A taste of his wines are meant to be evocative of the place from which they came.
After a rather round-about journey of experimentation, irreverence and soul-searching (check out my earlier piece, Randall Grahm: Prankster and Philosopher, written after an infamous pedicure session together), Randall is on a mission to become a true soothsayer of the soil.
Perhaps its because he swung so far off this path in the middle of his career, that he is now such a fervant torch-bearer of the terroir cause.  With the onset of critical and commercial success, he saw his enterprise shift into a mega-operation that churned out juice with little connection to terroir.  He has since sold off a large amount of his holdings to refocus on what inspired him in the early days of his winemaking career.
His winemaking notes and personal letter that accompanied the wine (full disclosure: I was sent a press sample) read like a cross between a personal journal entry and a playful blueprint of its journey from grape to bottle.  He states his mission clearly:  "We've been gradually paring down the Bonny Doon product line with the aim of producing only those products that have a real raison (or raisin) d'être, i.e. are utterly distinctive and in some ways tangibly enrich the world."
The grapes are hand-harvested from vineyard sites (79% Gonsalves, 16% Ca' del Solo, 3% Bella Grace and 2% Bien Nacido) in the Central Coast Appellation and fermented in individual lots with indigenous yeast.  It is a blend of 55% Carignane, 15% Grenache, 15% Mourvedre, 7% Petite Syrah, 5% Zinfandel and 3% Syrah.
Medium-red in color with hints of purple, Contra exhibits dirty raspberries and grappa-soaked cherries on the nose backed by the slightest hint of vanilla.  Medium-bodied with a Black Bing Cherry pie-filling note that's grounded in an earthy backbone.  The structure is solid with an acidity and spice that left my mouth salivating and my lips smacking in search of the next flavor.  It is both rustic and refined.
It's strange how memories get stuck in the recesses of our mind, only to be unlocked and revisited years later.  Perhaps this is the universe calling to me…maybe it's time I took a trip up the Big Thompson Canyon again.  But this time, maybe I'll borrow the Bonny Doon dirigible; I'm sure the view of the river from up there is fantastic.