The alarm went off too damn early.  Way, way too early.
If the jet lag didn't get us the night before, the vino would follow up with the one-two punch.  It was time to leave Paris.  After four nights, we were headed to the Loire Valley (see photo slideshow below).
We made our way through the drizzle of morning rain, hopped the metro and headed to Montparnasse Gare.  The TGV bullet train awaited.  (When I say this train is fast, double it in your mind, and then half what you think it would feel like to ride.  This thing's smoother than a newborn's right buttox (not the left though; nothing is smoother than that).
Arriving in Nantes on the west coast—where the Loire Valley meets the Atlantic Ocean—at 11 am, we found the car rental shop.  When we actually had a reservation waiting, I could have kissed the hungover saleswoman.  Trying to rent a car in a foreign country less than 24 hours before for a Sunday pickup is like wearing a Sunderland jersey into a pub in Newcastle.  At the bare minimum, you'll get a tooth knocked out and a pint glass shattered over your noggin.  And that's if you're lucky.
The sound our diesel-engined Peugeot makes is akin to a lawn mower that's mated with a motor scooter.  How I was able to push this thing up to 90 km/h is beyond my understanding of what's possible in the world of automobiles.
At about 3 pm, I turned the car off at a random exit and drove directly south until we hit the Loire River.  I couldn't wait any longer.  Once there, the sound of the birds and the feel of the cool wind relaxed me to the core.  After the cultural kaleidoscope of Paris—I mean a pork shank braised in Rodenbach beer served with sauerkraut?  Try to top that!—nature now stepped downstage to begin her soliloquy.
Truth be told, it was overwhelming, and as I sat on a park bench looking over her waters, I imagined my grandfather entering villages, just like this one, as a young soldier in WWII.  I wonder if he saw the waters of the Loire?  Or tasted any of the wines from her banks?  My first sip of local wine will be for you, Paul Flaherty.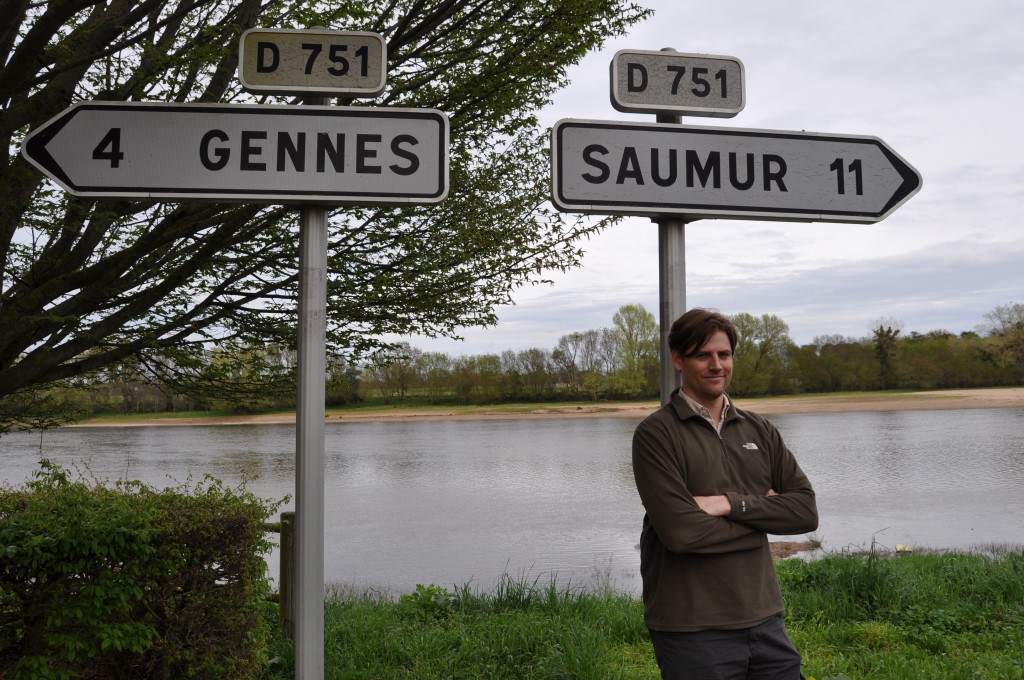 We took the small roads to Chinon, our destination in the middle of the valley in the Touraine wine region.  Small, medieval villages with lightly colored stone walls and dark slate roofs popped up every few minutes.  My heart raced every time we went through a familiar wine town.  Names like Savennières, Saumur and Saint-Nicolas de Bourgueil.  And as we wound our way through their narrow streets, we felt like we were going back in time.  Seeing the homes, shops and wine cellars carved out of the tuffeau (ancient, marine sedimentary limestone) along the river banks was mesmorizing.
Around 8 pm, we arrived in Chinon.  A village of 10,000 people, it lies on the north bank of the Vienne River, just upstream from where the Loire and the Vienne merge.  A dreamy, storybook town topped with an ancient castle, it is a powerhouse for wine.  Cabernet Franc is king here (though you'll find a small amount of Chenin Blanc, known locally as Chinon Blanc).
Opening the wine list that night was like reading a roster of local heroes.  From top to bottom, it was all Chinon wines.  Reds, whites, stills, sparklers, they were all there.  And we showed up thirsty.
In the coming days, we'll be meeting with Nicolas Joly of Coulée de Serrant and Arnaud & Jacques Couly of Couly-Dutheil.  The wine country portion of the trip has begun.