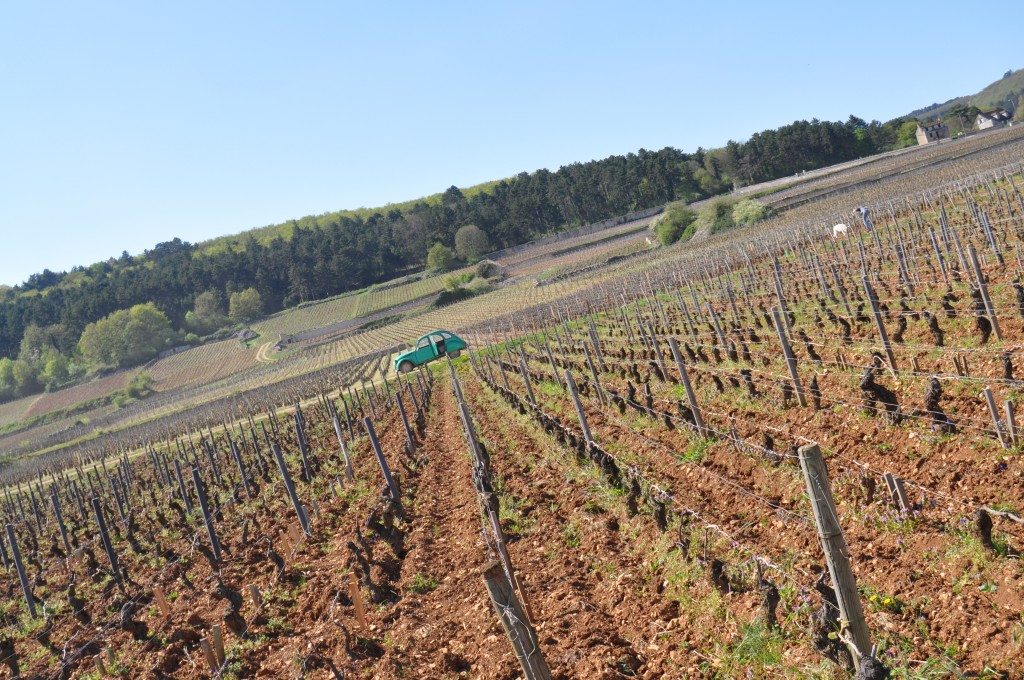 Believe it or not, you can drive your car right up to the Grand Cru vineyards of Burgundy. No barbed wire, half-starved Rottweilers or retina scans to keep you out. Nope, you can walk directly up to the vines and lie down next to them, if you so fancy (see the insane photo album at bottom).
It's a near religious experience to stand on their hallowed plots of earth and ponder just what the hell makes them so famous. This is akin to a baseball fanatic being allowed to enter Fenway Park after-hours, waltz right up to home plate, crouch into a batting stance and spit into the sacred dirt at their feet.
Over two days, my wife and I—armed with a geeky topography map photocopied from Hugh Johnson's World Atlas of Wine—stalked the small towns and vineyards of the Cote d'Or. Puligny-Montrachet, Gevrey-Chambertin, Vougeot, they all unfurled in front of us.
This is some seriously fuckin sacred land and you can feel it in the air. It's so different than Napa Valley, with it's glitz and glamour meeting you every step of the way. For the most part, we were alone on the serene vineyard roads in Burgundy (save for the occasional tractor and van of wine geeks glued to the windows).
I drove like a maniac, pulling the car abruptly off the road with no notice, or jetting up a dirt road to climb high up the slopes of the Cote d'Or, itself—a 30-mile long limestone escarpment which runs north to south and is home to some incredibly perfect soil compositions.
Looking out over the vineyards is like looking at grandma's quilt. Because most vineyards are tiny and have multiple owners (with some holding such small plots that they may only tend a few rows of vines), the different growing techniques are evident. For instance, a few rows may have freshly tilled soil, while its neighbors have tall grasses that have been left to grow wild. One guy decides to angle his rows at a 43 degree angle to the sun while the girl next to him plants hers at a 44 degree angle. Its a convoluted maze and a beautiful mess all at the same time.
Its not always clear why one particular vineyard has been declared "Grand Cru", while the one right next to it (identical to the naked eye) is classified with a lower distinction. Over time, and with centuries of people tasting the wines from each plot, some have reached a mythical status—and with an astronomical price tag to boot.
Our pictoral homage to these legends lies below. For some, this will be pure vineyard porn. For others, they will be merely strips of earth with some plants in them.
For us, though, it was a combination of porn, plants and terroir at its finest. Oh, and a few snail-sightings thrown in for good measure.