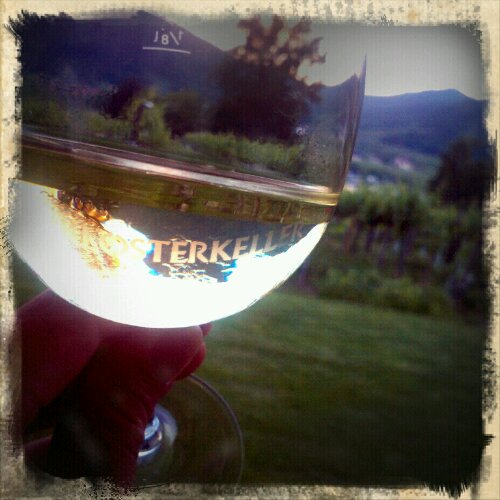 I'm addicted.  Unique to Austria, heuriges are informal dining & drinking venues usually attached to a winemaker's house.  Traditionally, only their latest vintage of wine is served; the food is cold and includes breads, soups, sausages and salads all homemade on the premises.
You will find them all over the country, with some bordering on full-blown country-style restaurants, while others have simple picnic tables set out next to the vineyard on the side of the house.  It's certainly my style of dining.
This picture is from our last night in Lower Austria and was taken at a heurige we stumbled upon randomly in Durnstein named Klosterkeller.  Watching the sun set, with the light reflecting off the nearby castle's walls over the vines leading to the Danube will remain one of my favorite all-time dining experiences.  Slap some roast pork in front of me, a hearty pile of horseradish and a glass of Smaragd Gruner Veltliner, and I'm a happy man.