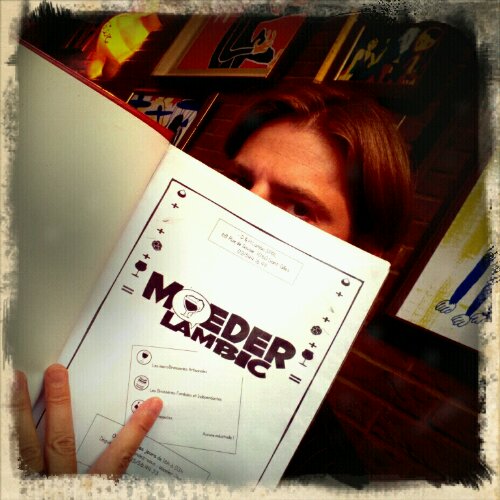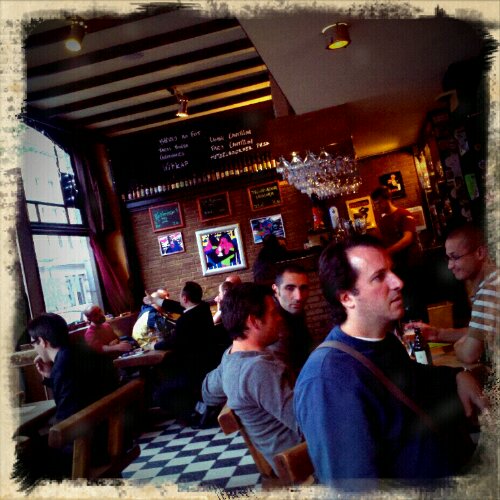 From the moment I let it be known I was entering the hallowed beer fields of Belgium, I have been getting emails, tweets and stones thrown through my hotel windows telling me about this place. Moeder Lambic has reached international fame, and it has a pen of rabid, salivating fans ready to cage match in its honor at the drop of a crown cap.  Tonight, I saw why.
Having a beer list that certainly impresses with its size but is not looking to win any awards, Moeder Lambic is about quality, small producers.  (I believe the "Biggest Dong on the Block" award may go to Delirium Cafe which has over 2,000 selections and is said to happily welcome hoards of testosterone-fueled Australians with necks the size of tree trunks on a nightly basis).
The service is top-notch with warm, knowledgeable employees who know the beers (every employee visits Brasserie Cantillon for a day of training and gospel study in the traditional ways of Belgian beer).  The decor is rustic, playful and quirky, supported by cool music, a youthful vibe and geekily-organized beer lists. I'll have to join the rugby scrum another night.  For tonight, I'll take my beer with a healthy shot of respect for the artisans that they deserve.