His gaze tightened, his cheek twitched as a surge of energy shot through his body.  In a moment, he was off.
Through the side door of our dining room, farmer and sustainable agriculture guru, Bev Eggleston, charged like a bull out of the gate in Pamplona.  A man had stolen a pig leg out of his truck.  And he wasn't gonna take that shit.
While not about wine, beer or spirits (although Paul Grieco was preparing to lead the staff through a tasting of a 1999 Nikolaihof Riesling), I feel inclined to relay the events of today…
(Quick background: in the world of fine dining, Bev Eggleston is a superstar.  A farmer from Virginia, Bev created EcoFriendly Foods with a mission to unite other farmers under the banner of raising pasture-fed animals.  His meats can be found on top menus all over the city.  Not only that, he's one hell of a guy.  And he sources our pigs for the pig roasts held every Tuesday night at Hearth, where I hang my hat).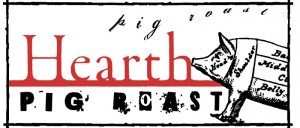 So…there we are.  5:30 pm.  Bev has parked his truck on First Avenue outside of the dining room door.  As our staff is gathered for pre-shift, he begins to softly preach the gospel of small, ethical farming.  Meanwhile, just outside the window, a lone, shady character in a blue t-shirt starts to case his truck.  Sniffing around for vulnerability, his eyes lock on to its booty.  He reaches in, pulls out a raw pig leg and tries to casually walk away.  BUT…don't fuck with a farmer's animals.  They have an instinct, a connection akin to a mama and her babies, and Bev felt a disturbance in the force.
Within moments, they were both running down First Avenue.  With the pig leg now precariously balanced on his shoulder, the terrified culprit's eyes bulged out.  "Holy shit, who is this crazy madmen wearing a butcher's apron and shouting at me with a Southerner's drawl?"  His pace quickened.  But Bev was faster and more determined.  He would have chased this unsuspecting cad all the way back to the rolling hills of Virginia.
Lo and behold, a van of police officers sat parked a couple of blocks away.  The site of a small, emaciated man running for his life while awkwardly toting an animal's appendage must have been humorous.  Add to that, the sight of Bev's twice-as-large frame closing in on him like a greyhound does a mechanical rabbit, and it's safe to say that the jokes our flowing at the precinct tonight.
It was over before it started.  Possibly toting a load in his pants, the culprit sheepishly stood in front of a phalanx of six officers.  Ten feet away, Bev leaned on the fence smoking a cigarette.  He had retrieved his pig leg.  All was well.
And if to confirm his integrity, Bev let him go.  No charges would be pressed.  He would, however, take a glass of Riesling to calm himself.
Welcome to NYC, where raw animal parts will get yanked from your car faster than you can say, "Hey, that's my pig leg!"