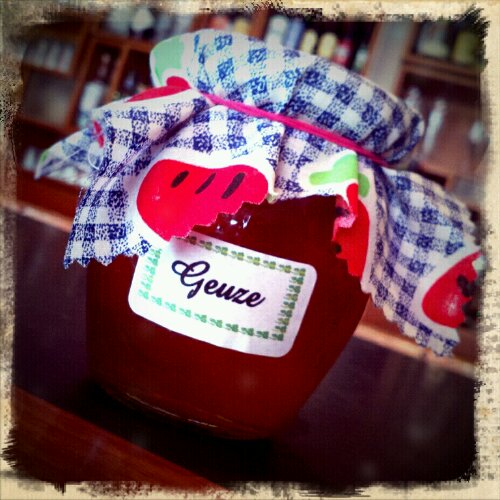 We didn't bring many souvenirs back from our foray into Europe.  When you're mostly on foot and with only a backpack, you ain't gonna be one of those beer geeks that load up on a bounty of beer and check it as cargo.
But we did bring a few things back.  One of them was this Geuze Jelly.  After we spent the morning at Hanssens Artisinaal in the countryside of Belgium, Sidy Hanssen thrust this into our hand: homemade jelly made from their Geuze (a blend of 1-3 year old Lambic).  I knew right away that this would be appreciated by one man and one man only: Jonathan Moxey.  The current head of BrewYork, otherwise known as the "Grand Poobah", Jonathan is a homebrewer and regular gourmand of the good shit.  Be it BBQ, smoked meats or rare Belgian brews, he is your man.  So, I toted this jar overseas for him.
I suggest an artisanal, 25-grain wheat bread, as opposed to a smear on a slice of Wonder Bread.  This jam deserves it; and so does Jonathan. Happy birthday, Poobah.