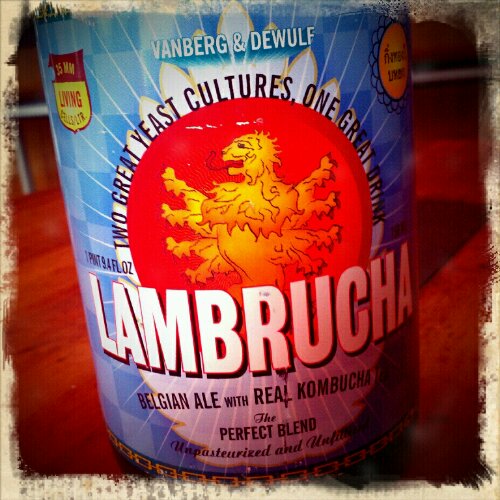 Lambrucha, Vanberg & DeWulf, New York, (brewed and bottled at De Troch, Wambeek, Belgium)
3.5% abv
Touted as the "first time two living yeast drinks have been brought together in one bottle," Lambrucha is a yeast-lovers paradise.  (Not to mention, possibly one of the most soothing beer trips one can take the old GI tract on).  35,000,000 living yeast cells?  Yes, please.  So throw your gut-shredding Big Mac in the trash and take this beauty out for a test-drive instead.
Although I've never tried Kombucha before—I think we all have that one friend, however, that swears by the stuff after a Bikram yoga class and a couple of songs on the sitar— it is a fascinating beverage.  Brewed for over a thousand years in Central Asia, its an effervescent, tart drink made by pitching yeast into tea and letting it ferment.
Lambic, on the other hand, is the oldest, continuously-brewed beer in the world.  So you might say Lambrucha is a perfect, yeast-filled marriage waiting to happen.  Together, under the watchful eye of Don Feinberg (founder of Belgian beer importer, Vanberg & DeWulf), the two elixirs become something mightier than their individual parts.
A blend of 60% Lambic and 40% Kombucha, Lambrucha has a nose of lemons, apple cider and pears.  Slightly effervescent, the Kombucha mellows out the tartness of the Lambic, giving it a silkier, fuller mouthfeel.  You can taste the individual characteristics of both the players, yet, see how together, they form a certain harmony.
The punk rock, aggressive tones of the Lambic attend a traditional Yoga class for a bit of meditation, and end up dancing effortlessly with a partner from a far-away land.