Le Pousseur (100% Syrah), Bonny Doon Vineyard, 2008, Central Coast
(13.5% abv)
There is something transporting about this wine, like being wrapped up in a harlot's velvet shawl.
You enter the room somewhat willingly, thinking you know what you're in store for, wanting to keep it light and fun, only to find your mind and emotions wrapped up in a deeper draw and the feeling of hot attraction coursing through your veins. This courtesan is much bigger than you can handle. You run from the room, only to get outside, take in a breath of fresh air and decide you MUST return.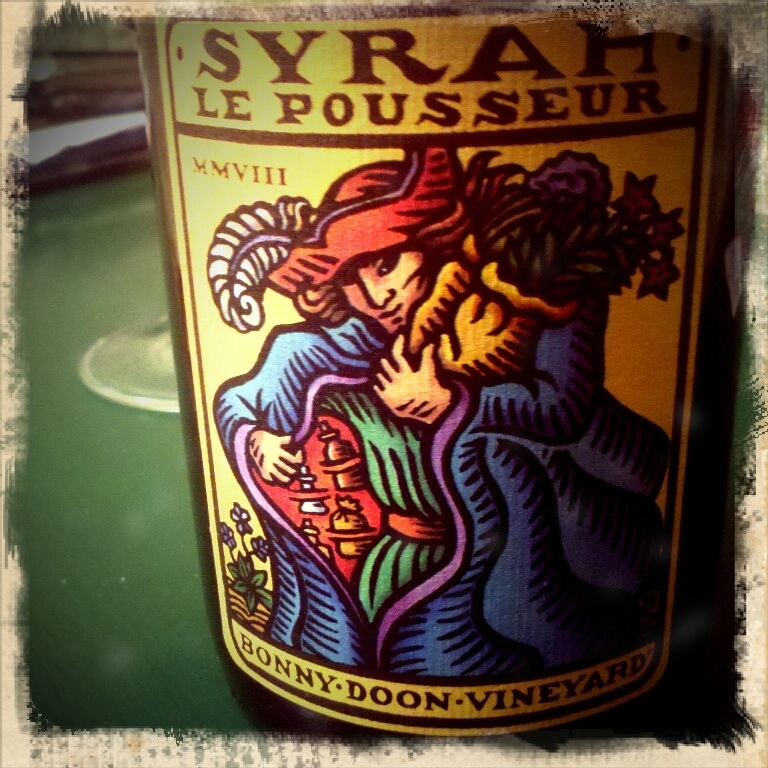 This is not the type of wine I was expecting to feel this way about. Call it "single vineyard snobbery," if you will, but I lowered my expectations when I read "Central Coast Syrah." It could be from anywhere there–the Central Coast is a huge place. But then again, these grapes are in the able hands of Randall Grahm…and he knows his Syrah.  It's going to be something authentic.
The color of the Bonny Doon Le Pousseur 2008 is near opaque, pouring a dark, purplish red. On the nose, a haunting, deep aroma of black berries, spicy brambles and a note of black cherry cream. I was drawn so deeply in, I found my nostrils a bit stung by the heat of the alcohol. But it only proved to spur me on…
On the palate, I was caressed by a velvety mouthfeel and I soon found myself feeling like Tom Sawyer, seduced by the fresh, tart huckleberry pie cooling in the window.  Mmmm….so delicious.  Must have.  Must steal and run off into the woods with. It tantalized me with this tartness. Mouth-watering fruit with a backbone of strength holding it firm and supported.  The tannins are rich and chewy, the flavors layered.
This is a wine that would make Mark Twain proud.  In his words: "Sometimes too much to drink is barely enough."
(*Editor's note: this wine was a press sample)