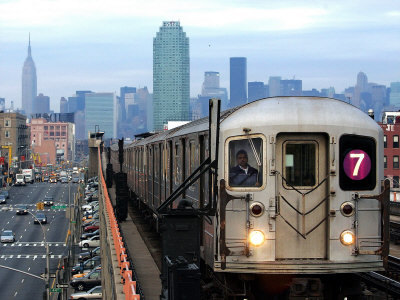 The other day, while crushing the exercise bike at my grimy Queens gym—our little foray through Europe packed on 20 pounds of food and drink goodness; do you have any idea how many calories Czech Ghoulash topped off with a liter of Dark Lager packs on?? So shed the blubber, I must—I stumbled upon my newest quest: to devour Queens.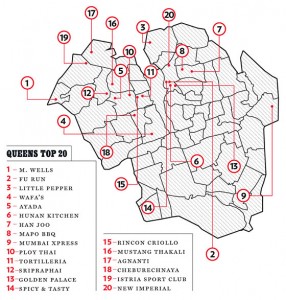 Here's the story: I found a mangy July issue of New York magazine featuring a list of the top 20 restaurants in Queens (a borough in which 60% of the inhabitants are born outside the United States). What this means, other than my neighborhood is an awesome calico of races and cultures, is that it plays host to the damn finest variety of ethnic food you can find in the country. The embarrassing part—because I've lived in Queens for 9 years and I work in the food & wine business—is I hadn't been to any of them. Shame on me.
So, I decided to do something about it. I contacted Chris, a good friend and fellow Queens resident who works as a lawyer and moonlights as a ridiculously talented cook (his Bánh mì is out of this world….and don't even get me started on his Georgia-inspired BBQ). Would he be willing to start working through this list with me? Diving into the shadows of Flushing and Corona Park to get his grub on? Damn right he would. The weekly outings have begun.
First stop: Han Joo Korean BBQ. Located in the Murray Hill section of Queens, one enters the throbbing, pulsing beat of Chinatown (the Chinatown in Queens is one of the biggest in the country, dwarfing the one in Manhattan). It's a vibrant neighborhood and I immediately felt the wall of the Queens-I-know dissolve, and we were transported to the streets of Beijing or Seoul. There, on a small side street, we found Han Joo.
A rather non-descript decor, Han Joo is composed of walls literally made of particle board with a large, flatscreen playing non-stop Korean TV shows. Each table has a silver bowl/gas burner in the center and a ceiling hood directly above it. You know what that means–the cooking will take place in front of our slobbering gobs. Hell yeah.
Our server was wonderfully accommodating; most likely being sent over to us immediately after noting the Caucasians entering the front door (we were the only non-Koreans in the place –another sign we were on to something authentic). She helped us decide on the do ya ji combination, a pork belly-focused onslaught. We ordered that and some thinly sliced duck to accompany it.
The first thing to arrive were beers from Hite, a South Korean brewery—it was either that or some Soju to start the meal. The Hite it was– I mean, why would we drink Heineken (one of the other choices) when we can go for the regional juice?
That's when the condiments started arriving. And by started, I mean it was practically a five-act ballet, as numerous people arrived at the table from different directions (was there a hatch in the floor?), each dropping off a small white plate or bowl with pickled vegetables, spicy peppers, powders, red bean concoctions and assorted lettuces.
A quartz crystal slab was brought to the table, piping hot and right out of the oven. A knob was activated and a flame burst into action underneath it. That's when the pork belly parade started. Fat strips, thin strips, marinated, dusted with spice, and just naked in all its glory. Then the duck came. The Kimchi came. They showed us the proper condiment arrangement—dip the meat in sesame oil, follow with soy powder, roll into a lettuce piece and then load that thing with condiments. Oh those condiments.  Spicy, sour, sweet, crunchy, savory. Gulp, gulp, gulp, salivate, salivate, salivate. Wow.
We had a number of devoted grill masters attend to our tabletop quartz slab. They moved in and out, each slapping down a new component to toss around on the rock until cooked to perfection. This must be what Bruce Wayne feels like to have Alfred feeding him at each meal…except Alfred was a woman. And not wearing a tux. And not giving snarky, veiled advice about upcoming missions…but I digress.
The Kimchi was a stand-out. Granted I'm not versed in its ways, but I often find it's funk overpowering; here it had a grilled flavor that was hypnotic.  The meal was fantastic. The beer was surprisingly malty. Easy, clean drinking. I would prefer a bit of hops for a bitter, cleansing dismount but I was merely giddy to experience a taste of Korean BBQ at it's most authentic.  First stop: down. And looking forward to number two.
Next time, I start with the Soju, though, to properly prime the belly…
Han Joo, 41-06 149th Pl, Flushing, NY 11355
(718) 359-6888