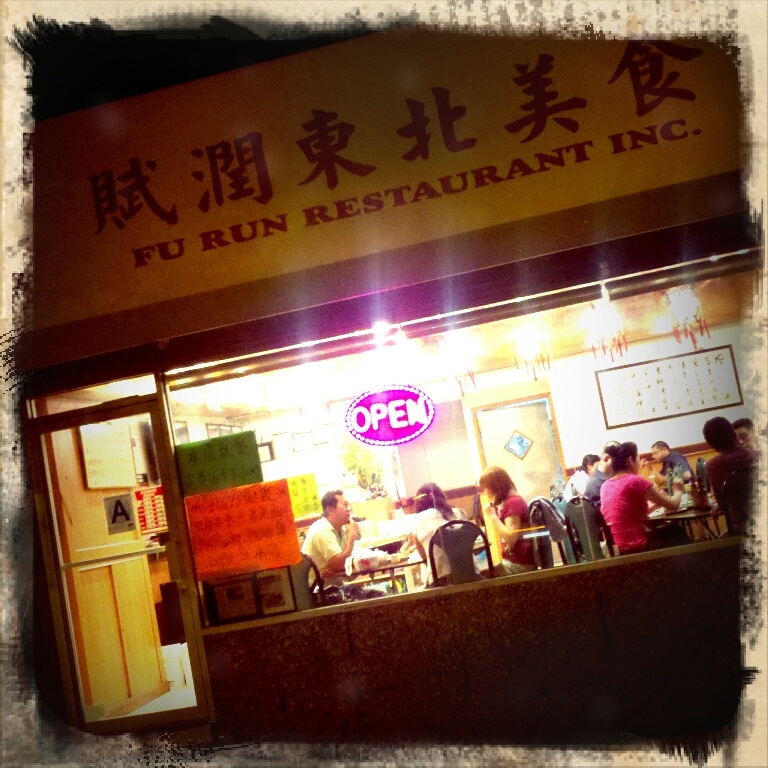 I will be haunted by you for quite some time.  You've got your fatty, rich, spicy fingers under my skin and I can't shake you free.  In fact, I should just name this piece after you: 'Ode to Muslim Lamb Chop' (see pic below).
For stop number two, we drove into Flushing to visit Fu Run restaurant.  The tasty cuisine of this Chinatown outpost comes from an area in the far-away reaches of Northeastern China called Dongbei (formerly known as Manchuria).  We came curious.  And we came hungry.
We pulled up in front of the windowed facade topped with the bright yellow, neon sign and I felt like it wasn't enough.  We can't just get out of the car, go into the restaurant, eat our faces off and then load back in the minivan.  That's sort of fraudulent; we are here to experience a new side of Queens, a deeper layer to the borough I call home.  And so, we strolled down the surrounding streets before entering.  The streets were abuzz with people of all race and creed.  Shops with countless jars of herbs and spices abutted open kitchens with various roasted meats hanging by hooks over steaming woks.  For the first time in my life, I considered purchasing a whole roast duck to just gnaw on in the backseat like a savage.  I was transfixed by the smells and the sight of perfectly browned flesh.  This has to be equivalent to the plumes of cotton candy I craved as a kid.
After making an eventful loop, we ended up inside our destination restaurant.  A fluorescent-lit affair, Fu Run was near jumping with only a handful of open tables.  The obligatory TV played next to a lone single beer tap, which I would later find poured only Budweiser (no thanks, I'll stick to the bottles of Tsingtao).
Our eyes dotted over a diverse landscape of vittles (pork stomach, anyone?) and landed on the prize we came for: the Muslim Lamb Chop.  Clocking in at a whopping $21.95, it is easily the most expensive item on the menu.  Undettered by mere monetary matters, we ordered it, along with a serving of, iced vegetables with green bean jelly and dumplings filled with sauerkraut.
When this lamb monstrosity of goodness hit the table, we were wowed.  Dear Lord, I thought, there is so much spice on that thing the chef must be having a laugh.  Literally covered and then covered again, and then hit with one more heap just to be sure, the Muslim lamb chop (which is actually a slab of lamb ribs) is like nothing I had ever seen before.  Seasoned with cumin, white and black sesame seeds and then red chili, the ribs are slow braised, then seasoned again, dipped into the fryer and seasoned again.  Did I mention the seasoning?
What defies the mind is that they are delicious and in no way OVER seasoned.  They are tender, fatty, fall off the bone perfection.  We guzzled our Tsingtao like happy children and ate like victorious traders on the ancient spice roads.  All around, I began to notice each table seemed to have a plate of these ribs on the table.  I asked our server about this.  "Oh yes," she said, "ever since the NY Times wrote about it (and a variety of others I have seen), they fly out of the kitchen.  We usually run out by ten pm".
My suggestion?  Get thee to Fu Run early before they run out.  Better yet, get there early before they cash the world of its cumin supply…
Fu Run, 40-09 Prince St, Flushing, NY 11354
(718) 321-1363