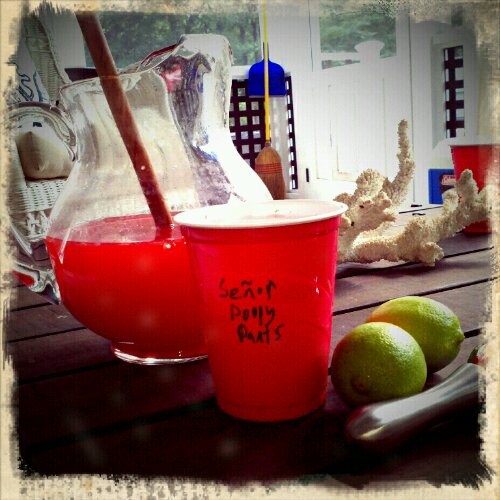 We descended on the house like General Patton's Third Army, and quickly fanned out to our battle stations.
The grill, the kitchen, the bar; each was quickly manned.  I took to the jiggers and the citrus reamers; I was now in charge of keeping the group primed and oiled with libations.  A misstep at the bar can mean troops left behind.  And we don't leave troops left behind…
For Labor Day weekend, I decided to punch it up.  You'll find countless various of Rum Punches here, there and everywhere, but I took my lead from two classic sayings of yore.
There is an old recipe for The Baja Rum Punch that made its way around the Caribbean: "One part sour, two parts sweet, three parts strong, four parts weak."  You can mix different items you have on-hand but the overall formula must be obeyed.
And in the NY Times in 1908, the following recipe was the first to occur in print of the famous Planter's Punch (with a nice set of rhyming couplets to boot):
PLANTER'S PUNCH
This recipe I give to thee,
Dear brother in the heat.
Take two of sour (lime let it be)
To one and a half of sweet,
Of Old Jamaica pour three strong,
And add four parts of weak. Then mix and drink.
I do no wrong — I know whereof I speak.
These essentially teach the basics of mixology and being aware of the balance between the components of sweet (Grenadine syrup, in this case), sour (lime juice), strong (Rum) and weak (pineapple and orange juice) are key to a successful punch.
I tried the following:
1 cup Lime Juice
2 cups Grenadine Syrup
2 cups Gold Rum
1 cup Coconut Rum
2 cups Pineapple Juice
2 cups Orange Juice
It was pretty spot-on, but I did need to tweak by adding about a half cup more lime juice.  And the next time I venture into punch land, I will use a half cup less Grenadine.
Word is, Patton didn't like it too sweet either.  And no one disobeys Patton.