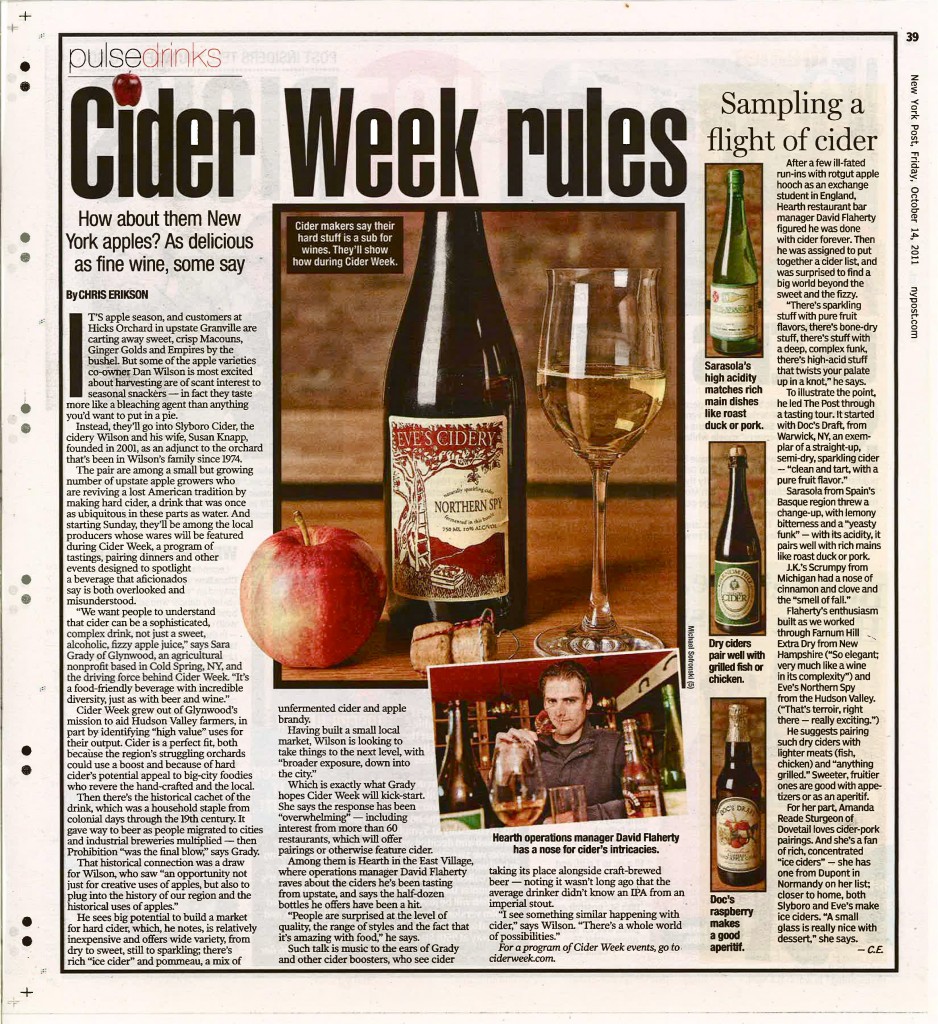 I was fortunate enough to lead New York Post writer, Chris Erikson, through a tasting last week in anticipation of NY Cider Week; we had a blast (final article above–click to enlarge).
Over the course of two hours, I poured eight different hard ciders from around the world and circled back to illustrate how the New York cider producers fit into the cider world at large.
Here's what we tasted:
Warwick Valley Winery, Doc's Draft Hard Apple Cider, New York (4.5% abv)
Sarasola Sydre, Natural Apple Cidre, Basque Region, Spain (6.0% abv)
Westons, Stowford Press Export, England (6.0% abv)
Etienne Dupont, Cidre Bouché Brut du Normandie, 2009, France (5.0% abv)
Farnum Hill, Extra Dry Sparkling, New Hampshire (7.5% abv)
J.K.'s Scrumpy, Farmhouse Organic Hard Cider, Michigan (6% abv)
Eve's Cidery, Northern Spy, New York (10% abv)
Warwick Valley Winery, Doc's Draft Framboise, New York (5.5% abv)
I've written a few geeky posts on cider in the past, so if you're so inclined to dig deeper into the apple's core, check these out:
And for those of you in New York, starting this Sunday, you're in for a treat.  Throughout the state, you'll be able to sink your teeth into this awesome (yet oft misunderstood) beverage.  Check out this list for participating bars, restaurants and events.
No worms allowed (seriously)