I have to admit, I don't understand white whiskey.  As someone who oversees a bar program, I find myself confused as to how it fits into the mix.  Is it a sipping spirit?  Can it stand on its own?  Or is it simply something bound for a cocktail and that's the end of it?
To me, white whiskey seems like an incomplete product.  Like a piece of white bread slathered with peanut butter and thrown into a Glad sandwich bag before your mom had time to jelly up the other slice.  You sit down, eagerly open your lunch bag and wonder, "Mom, what the fuck?  Half a sandwich?  And only peanut butter?   What am I supposed to do with this?  Aargh.  Hey, Timmy, you want to swap that celery spear for a peanut butter schmear?  No?!  Well, fuck you too!"
This is strange to me.  Just yesteryear, raw whiskey (also known as "White Whiskey" or "White Dog") was the hottest new thing the spirits world had seen.  Everywhere it seemed to pop up.  Small-batch distillers like Tuthilltown, Death's Door, Buffalo Trace and House Spirits all seemed to be rushing to get them on the market.  Robert Simonson even did an ode to them in the NY Times.  It was on.  The fad begins!  Line up, junior, and get your dose of moonshine!
The thing is, though, no one quite knew what to make of it.  It's basically an unaged Bourbon.  Seeing no oak–or in most cases, something ridiculous like two hours of oaking (some strange governmental requirement)–it is a colorless spirit like gin or vodka.  But on the nose, its something unique.  I've tried those that smell of fresh baked corn (Finger Lakes' Glen Thunder) or like juicy fruit gum (House Spirits' White Dog).  The thing is, while I can appreciate the cleanness, the pureness, the distiller's art laid bare, I'm not drawn to them.  Is it just me?  Am I missing something?  There's something incomplete, like a half-painted portrait that the artist hadn't quite finished before the finishing bell required he present it to the public.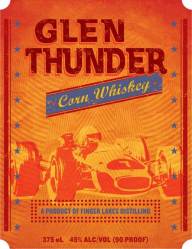 I've seen this confusion play out over the last couple of years.  While there are a number of hardcore spirits geeks out there whose ears perk up when they see you have one on the spirits list, who is ordering this stuff at the bar?  I know if I was offered a Single Malt Scotch, a Small Batch Bourbon, an Aged Rum or a two-ounce pour of raw whiskey, I sure as hell ain't picking the clear stuff…
I've expressed this confusion to my sales reps or the brand ambassadors from the distilleries, themselves.  "I'm a little confused by it," I say.  To which they inevitably thrust a page of twenty odd cocktails to be made with it.  But, you mean its only for cocktails?  "Well, no, but it finds nice expression that way."  So, its incomplete then?  This doesn't usually go over well…no salesman or saleswoman wants to be told their wares are incomplete.
So, I remain confused.  I think a spirit should stand on its own.  Sure, you can make a martini or a manhattan with your vodka, gin or whiskey, but essentially, I want to taste that spirit first and foremost.  Is this something we want to, no, yearn to taste on its own?  What am I missing?