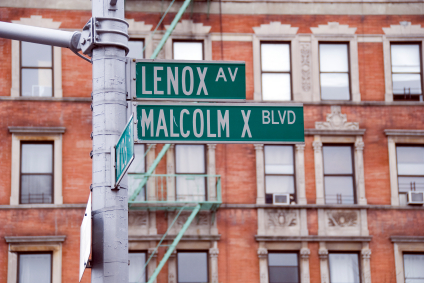 At 1:00 pm, with the wee lad strapped in and the diaper bag filled with the tools of the trade, we left the house.  We vowed that no amount of shitstorms or wet-nappy assaults would knock us off our journey, and we jumped on the M60 bus in Astoria to make our way to 125th street in Harlem.  Brew day had arrived.
Our grain-loving pals, Jonathan and Lauren Moxey were at the ready to greet us.  This was Kat and I's first foray into all-grain brewing, a leap up from the moderate-level extract brewing we'd been doing previously.  I'm a lover of gizmos and gadgets, so when my eyes first met the massive outdoor burner that could boil stew for an entire brigade in mere minutes, or the chemistry lab-grade stir plate with a happy yeast starter in full-feed, I was quickly in my element and firing off a litany of curious questions.
We were also armed with some malt-driven armaments, and throughout the day popped the caps on the Pelican Brewery & Pub's 'Mother of All Storms', the Schlafly Reserve 2007 Oak-Aged Barleywine and some of Jonathan's award-winning Saison.  We were properly fueled.
Jonathan and I planned out the brew last weekend; looking for something that celebrates the fresh herbs of the season, and is sessionable for the spring, we sketched up this hum-dinger of a recipe:
The (as yet unnamed) Thyme Pale Ale
8.00 lbs Crisp Organic Pale Malt
1.50 lbs Weyermann Dark Munich
0.50 lbs Weyermann Carahell
0.50 oz Amarillo whole leaf hops, 10.9% AA (first wort hop)
0.50 oz Amarillo whole leaf hops, 10.9% AA (30 min)
1.00 oz Centennial whole leaf hops, 10.3% AA (5 min)
0.25 oz fresh thyme (0 min)
Mash at 145F for 20 min (add 12.5 qts of water at 156F)
Mash at 154F for 40 min (add 8.0 qts of water at 172F)
Sparge with 4.3 gal of water at 175F
Wyeast 1968 London ESB (1.00 l stir plate starter)
OG: 1.052
(If you want to get technical, we also added WhirlFloc at 15 min, 1/2 tsp of Wyeast yeast nutrient at 10 min, and 90 sec. of pure o2 before pitching at 68F)