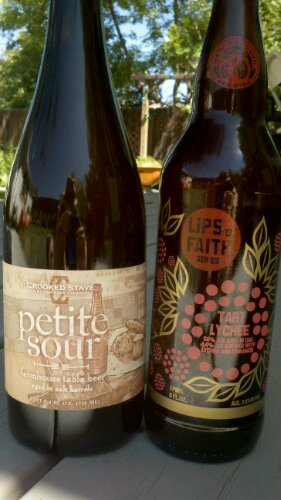 As we load up the gear to head back to the urban jungle, it's only right I wrap up some special bottles of brew that I can't get in NYC.
This is important travel protocol for any wine, beer or spirits geek.  If you're not smuggling home some juju juice, then you're a plain ol' ninny.  And if you need to leave the baby diapers behind and, instead, wrap his buns in dirty socks, then do it.  No excuses, load that suitcase to its liquid-carrying brim. And, come to think of it, if you need to mail the baby home FedEx, then get packing.
So, what did I bring? New Belgium "Lips of Faith" Tart Lychee and Crooked Stave Petite Sour. The "Lips of Faith" series is New Belgium's small batch, experimental line of beers. The Tart Lychee is a 56% wood aged sour ale, and 44% ale brewed with lychee fruit and cinnamon.
Crooked Stave Artisan Beer Project is the less than two-year old endeavor run by Brewmaster Chad Yakobson (formerly of Odell Brewing) who brews out of Funkwerks' brewery and has made understanding Brettanomyces his mission. Using a mixed culture of lacto and Brett to ferment a portion of the beer, the Petite Sour is again fermented and aged in oak foeder.
Mmm…mmm…good. Now where'd that baby go?  I need to borrow his bottle.