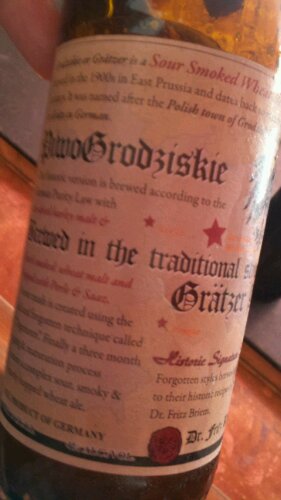 20 bottles of Professor Fritz Briem Grodziskie (Sour Smoked Wheat Ale) in da house. Just snagged a case for Hearth and Terroir EVil.
Dr Fritz Briem (of the brewing educational/consulting center, Doemens.com) has made it his passion to recreate long-forgotten beer styles of the past. You would have found this one in East Prussia in the 1900s, but dates back to the 15th century.
This ridiculously hot day just got a whole lot cooler.  This is the perfect summer beer.
Tart, with a wee bit of smoke in the background that skyrockets the flavors to a different level.  And zesty from the Perle and Saaz hops with a wheat snap on the finish.  Oh my.  Oh yes.