Sancerre (100% Sauvignon Blanc), La Grande Côte, François Cotat, 2010, Loire Valley
Sancerre.  Its one of those french words that just rolls off the tongue.  Everyone loves to say it.
Just like "Chardonnay," there is no confusion how to pronounce it…and, therefore, all Americans love it.  Even old Uncle Earl can sound sophisticated when he asks for the sommelier to come to the table and barks, "give us a damn bottle of Sancerre. No scrimping.  Best in the house."
Well, recently, I got to try one of the best Sancerres on our list.  In fact, you plop this baby down in any wine cellar in the world, and it will still be one of the best Sancerres on the list.  For François Cotat, as well as his brother, Paul Cotat, are top producers in the area.
Last year, on my wife and I's dream jaunt through Europe, I pulled the Peugeot over and we stopped for lunch in Sancerre.  A sleepy little village on a hilltop, we had to circle a windy road to climb to the city center.  There at the top of the hill, a tiny town square sat frozen in time.  It didn't matter what we ate, only what we drank.   And to drink Sancerre in Sancerre was surreal…and never mind the fact I almost threw our wee vehicle off a cliff while gawking at some vines like a possessed idiot on the way down.  But back to this wine…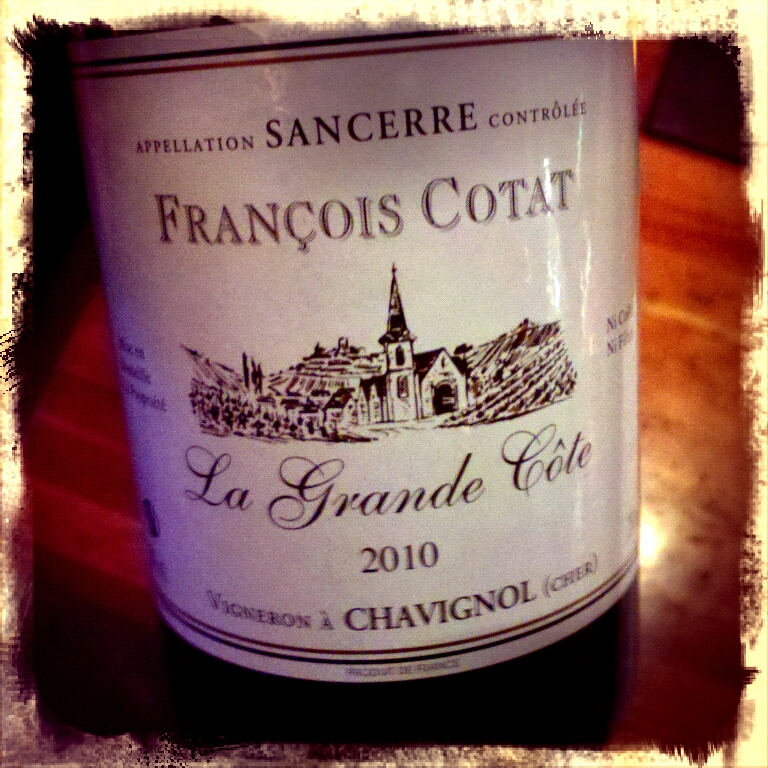 Beginning with the nose, it is truly unlike any Sancerre you're familiar with (by AOC law, all Sancerres must be 100% Sauvignon Blanc).  Intensely aromatic, with notes of lemon curd, acetone and river rocks rising from the glass like an unknown perfume.  On the palate, it has a viscous body and a rich mouthfeel, with an acidity that is momentarily delayed, and then quickly washes over the palate in a flood.  Closer to a Chenin Blanc than a Sauvignon Blanc, its a big white.  Intriguing and captivating, its downright delicious.
You ain't quaffing this one down spritzer-style.  She simply won't let you.