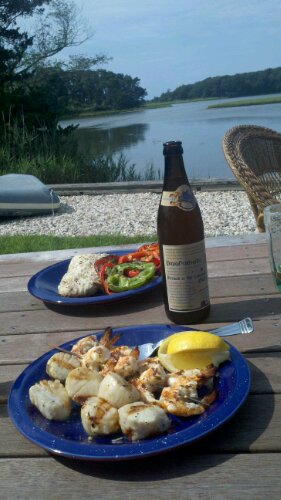 My brother and I rolled into Peconic, NY, yesterday to our wee getaway house on the North Fork of Long Island.  After getting the recommendation from Mike Mraz at the North Fork Table and Inn, we hit up the Southold Fish Market and began our grill brigade.
Above is a picture of Phase 1: Scallop, Shrimp and Striped Bass attack, fully supported by the skilled armaments of the Fritz Briem Grodziskie.  (Phase 2 happened after dark and basically involved a long barrage of everything from Scallions to Romaine to Peaches hitting the flames—neighbors described it as "unending" and "relentless").
All in all, char was sought, and char was savored and conquered.