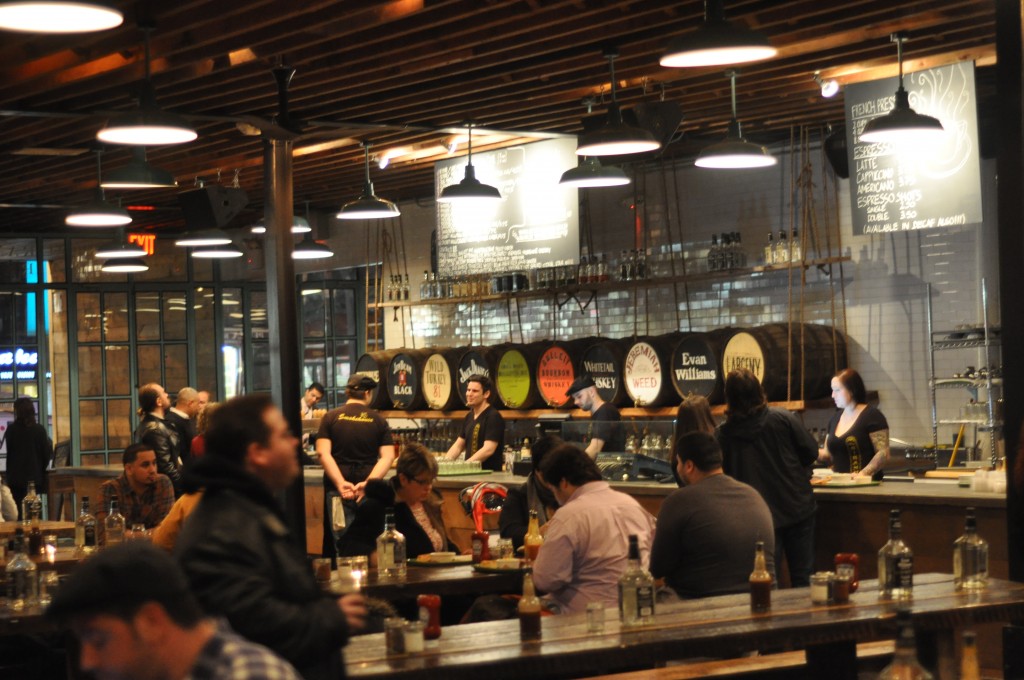 After months of curious gawkers cruising the windows and hypothesizing on the local blogs as to what exactly this massive project would bloom into, the Strand Smokehouse opened on Broadway in Astoria this weekend.
In a former Blockbuster space that really shouldn't have surprised anyone when it went out of business last year (although I will miss my once-every-eighteen-months drunken visit to rent an 80's era movie), the place is massive.  With seating for hundreds at hand-carved wooden tables made by the owner himself–he told me this when I sat down only to feel the bench tip back wildly and nearly launch the girl at the other end like a teeter totter turned evil–and a facade entirely made of windows that runs the full width of the space.
More impressively are a row of ten barrels, each branded with a different whiskey, suspended from the ceiling behind the bar (yes, they really hold whiskey, although I'm curious to know in what way…plastic bladders on the inside?)
But the spine that sends the space into a true thing of beauty is the ceiling.  Massive beamed, exposed rafters give the sense that you're inside some crazy BBQ-obsessed gallion on the open seas, with only a jug band to provide the soundtrack.  I asked the owner, Tommy Vasilis, 41, about the ceiling, jokingly saying, "It's almost like you removed the skin of Blockbuster to find this beautiful wood underlayer." His reply, "That's exactly what happened.  We uncovered it and realized they'd left us a great gift."  (Editor's note: we told this story to the guys next to us at the table, and they turned out to be Irish carpenters, who were astounded.  "We were just saying, whoever made this frame with that level of work, must have spent a g-damn fortune.")
I'm yet to try the food (they ran out by around 7:30 pm on opening day), but I was thrilled to see a beer list that heavily featured Barrier Brewing, the awesome Queens-based brewery that was completely wiped out by Hurricane Sandy.  Working out of Bakeway's massive kitchen next door (same ownership), the meats and down-home sides will change frequently and hopefully give Astoria a new Mecca for good BBQ, after John Brown Smokehouse closed earlier this year (only to reopen recently in Hunters Point).