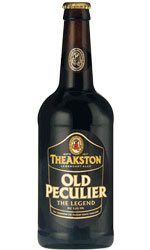 Old Ale, Theakston, Old Peculiar The Legend, Masham, North Yorkshire, UK
(5.6% Alc abv)

Brewed with Fuggle hops and from a long tradition, Theakston's Old Peculier Ale "The Legend" is a little deceiving. It's dark, squat brown bottle sits like a tank looking back at me. Its steely eyes watching my every move. The beer is delicious and I found I had to find a new reference because the color is dark, and could be confused for a stout by looks alone, but not in the flavor. It takes you by surprise. But why?
Throughout the last 180 years, Theakston has been brewing beers in Masham, a town of just over 1200 people in the North Yorkshire area of England. But that is just the mere tip of the iceberg, as the town's history goes back far enough to reveal the owners of the land having been rescued by the Knight's Templar almost 900 years ago. But thats for another day…
The Old Peculiar is what's known as an "Old Ale", a name often not touted around my world, at least. Its kind of an interesting process where the beer is brewed at lower temperatures, yielding less sugar and more dextrin (a carbohydrate); normally, brewing is done at high temperatures, resulting in more sugars and less dextrin. The high levels of dextrin give a fuller body and leaves the beer with a slight acid zip that leaves you refreshed.
With subtle aromatics, an almost red fruit character on the nose, and great complexity in the finish. Rich in malt and with that classic spicy Fuggal hop flavor I like in my English beers.
Old Ales are pretty wild stuff. I must try more. I see that North Coast brewing has the "Old Stock Ale", which looks interesting.
(For more info: check out Theakston's website here)