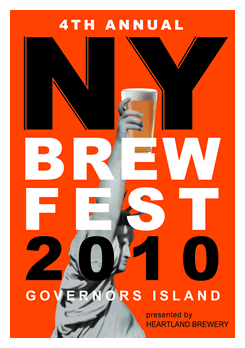 Calling all East Coast brew geeks!  It's coming.  A day of sun-soaked, beer-drizzled, hop-tinged, fun-loving craft beer worship is coming soon.  And the only way to get there?  By boat.
That's right, kids, on Saturday, June 19th, Governor's Island is going to be overran by beer hounds.  And I don't mean the Pabst-swilling, Coors Light-guzzling kind.  Nope, I mean the kind that pair their SPF ratings with their IBU rankings.  The kind that relish in flavor and artisan care.  The kind that you want to hang with!  And, really, where else would you put us all on a Saturday afternoon then on our own frickin island?
I will be there leading my fellow cohorts on the Brewfest Water Taxi in stunning renditions of Kumbaya and 99 Bottles of Beer as we approach Craft Beer Island.  If my singing alone isn't enough to entice you, maybe this will:
More than 300 craft beers
100 NY State, East Coast, National and International breweries
Live music from NY State Bands
Transportation:  Brewfest water taxis leaving from Manhattan, Brooklyn and New Jersey, as well as the Governor's Island Ferry
Elephant races and brewmaster tossing (okay, no elephants, but I may toss a brewmaster in the East River)
Tickets: $55 (including transportation) or $75 for the Connoisseurs Session (early admission and access to specialty suds)
Visit nybrewfest.com for more information and to purchase tickets (as well as to demand elephant racing)
Fire up the water taxis.  You're gonna need all hands on deck for this one.  And if you hear me singing slightly off-key, I may just need a little liquid re-tuning.  Feel free to bring me over a glass of hop-filled love and let's harmonize over an old Irish sea shanty.