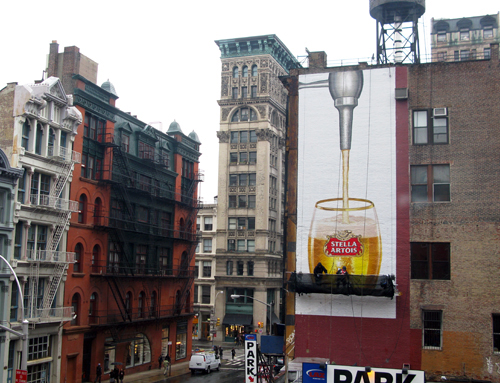 I wonder how long it would take me to consume a beer that's five stories high?  A month?  A year?  A lifetime?  Maybe I'd get halfway through, swear off beer forever and switch to Riesling…
In the dead of winter of 2009, Stella Artois embarked on The Ritual Project high above the streets of NYC.  (Now, granted I'm not a huge Stella advocate.  In fact, its been years since I've purchased one).  But enough about my own tastes because I was definitely impressed by this campaign.
Stella Artois commissioned a group of NYC sign painters (Sky High Murals) to paint the entire 9-step Belgian Pouring Ritual, step by step.  Over 21 days, a documentary crew created a stop-motion film of the painting of the 20-50 foot wall.
And being that a good friend of mine, Chris O'Connor is a master of the stop-motion process (check out: The Amazing Adventures of Captain Chuck), I was intrigued.
I was contacted by Angela Bruno from the documentary crew about the project and was soon swept up in the painter's world.  Their soon-to-be-released documentary called "Up There" profiles the art form of mural painting which is a dying one that requires incredible patience and skill.
The Ritual Project – start to finish from Jon on Vimeo.
The 9-Step Belgian Pouring Ritual?  Well, it seems like a load of trumped-up pomp and circumstance that definitely wastes precious beer.  But check it out for yourself, as I thought Chris Baird of Baird Brewing Company in Japan had a good post about it on his blog.
But say what you will about Stella, the fact that they supported such an ambitious and unique project deserves a shout-out.  I'd love to share a pint with any of the skilled artists featured in the film.  Just don't go pouring my beer down the drain please…