Can the spirit of the land be captured in a bottle?  Can time, geography and culture be turned into liquid?  Yes it can.
The Finger Lakes is a place of magic with rolling countrysides, vineyards, orchards, lakes and hamlets that remind me more of Ireland than the US.  And there, Finger Lakes Distilling is cranking out some incredible spirits.
Being from Colorado, I'm a sucker for the outdoors and if left to my own druthers, I'd disappear into the Rockies to live off the land like Ralph Waldo Emerson did at Walden Pond.  So when it came time for my wife and I to pick a wedding locale, Colorado was my top (and only) choice.  I was resolute that nowhere else possessed the natural majesty.  And then I traveled to the Finger Lakes…we had found our spot.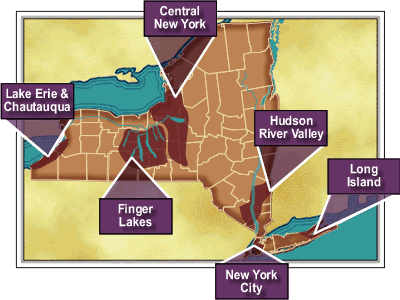 Composed of eleven lakes, the Finger Lakes region of upstate New York is the largest wine region in the state and because of its sheer volume of fruit, makes New York #3 in total grape production in the US.  And there, amongst the wineries of Seneca Lake, lies the regions only stand-alone distillery.  This is where the magic happens.
Sourcing ingredients from local farmers, they're distilling in small batches and have a long line of impressive elixirs that have captured the soul of the region in bottle-form.  The roster includes whiskeys, grappas, gin, vodka and fruit liqueurs.
The still used to complete this conversion of earthly matter to liquid essence?  A 4,000 pound, giant pot still and rectification column made in Markdor, Germany and transported nearly 4,000 miles to its home in the Finger Lakes.
(Rumor has it that the still was crafted by a lone witch far in the mountains of the German hinterlands during a feverish acid-trip involving many newts and haunted cow skulls…or maybe I just started that rumor…)
The man behind the still?  Thomas Earl McKenzie of Monroesville, Arkansas, who comes from a long line of distillers and has made everything from wine to beer to spirits, and even done some farming along the way.
Thomas has teamed up with a former banker named Brian McKenzie (no relation, but how's that for magical coincidence?) who convinced Thomas to leave the South and bring his family up to the hills of New York and launch the distillery.  I'm glad he did.
Here's the rundown of three of my favorites: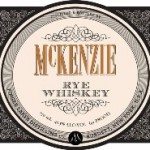 McKenzie Rye Whiskey (45.5% abv)
Using New York state grain (80% Rye and 20% Malted Barley) and distilled with old-time techniques, McKenzie Rye is then aged in charred casks and finished in sherry barrels from local wineries.  This ain't your grand pappy's rye whiskey.  Whereas most Ryes are strong and spicy with the ability to take the paint off a Thunderbird, the McKenzie rye has an elegance and silky mouthfeel that I haven't come across before.  A smooth integration of spice, maple and a hint of orange is nicely accented with some butterscotch notes.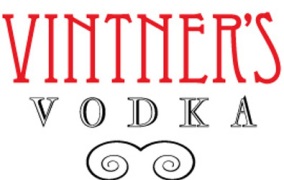 Vintner's Vodka (40% abv)
As some of you know from my previous writing on vodka, I'm not a huge vodka fan as I just can't sink my teeth into a spirit that's odorless and flavorless.  But the Vintner's Vodka is far from that.  Using a blend of local grapes (mostly Catawba) sourced from near the distillery, as well as some from their own vineyard, they've combined the talents of the winemaker with the distiller.  Ridiculously smooth and silky in the mouthfeel, it elicits notes of lychee, vanilla and orange with a hint of spice on the finish.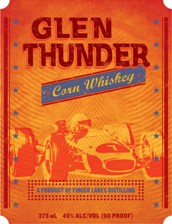 Glen Thunder Corn Whiskey (45% abv)
Clear whiskeys don't see the inside of a charred barrel (which is how Bourbons get their coloring).  In foregoing the charred oak flavor, one can capture the flavor of the natural grain (in this case: 80% corn, 20% barley malt).  Glen Thunder is made with local, organically grown corn and will bowl you over with its aromatic notes of freshly shucked corn.  Again, with a smoothness that seems to be Thomas Earl's trademark, this whiskey is round in the mouth, silky and with a hint of bacon (mmm…bacon…).
I don't understand the intricacies of the still, but I do know when I taste something unique.  Something that exudes life and soul.  And I believe, with the right approach and the right ingredients, we can play Merlin on this earth.
Look for the McKenzies on your next trip to the Finger Lakes.  They'll be the ones wearing the magical blue capes and flying around on tricked-out broomsticks.