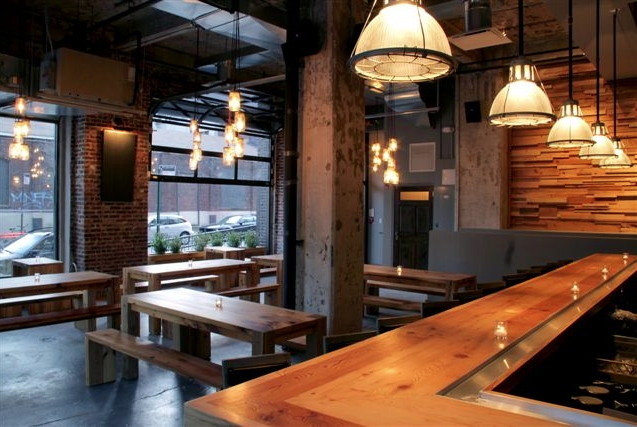 North Williamsburg.  On a rather desolate block, a mini-Mecca for libation lovers awaits in two-story glory.
Be you beer geek, cocktail purist or refined wino, this is your place.  All under one gloriously designed roof and with a level of hospitality that will warm any NY'ers heart.
The Counting Room, at 44 Barry Street in Brooklyn, plays to many strengths, and is testament to the consumate professionals behind its multi-beveraged-assault on the senses.
A cocktail program born from the classics of the 1860's and spun into the modern world, a wine program that is diverse, current and savvy, a beer program that celebrates the craftsmen and a level of food that promises to please the refined.  It has it all.
I recently sat down with co-owner and mixology wizard, Vincent Favella, for a couple of cocktails and got the low-down on what makes The Counting Room tick.  Watch the video below:
The Empire Sour
2 oz Laird's Applejack
1/4 oz Carpano Antica Formula
1/2 oz Simple Syrup
1/2 oz Lemon Juice
2 Dashes Regan's Orange Bitters
1 Egg White
Combine the simple syrup, lemon juice, orange bitters and egg white in a shaker and shake vigorously (without ice).

Add ice and applejack and shake what your mama gave you.

Strain into a frozen 6-ounce tumbler and float Carpano Antica Formula.
Get yourself to Williamsburg and down to the cocktail lounge of the Counting Room where Vince and his crack team of mixologists are waiting for you.
Come thirsty and leave content.  You may even be a bit more educated…tipsy, but educated.