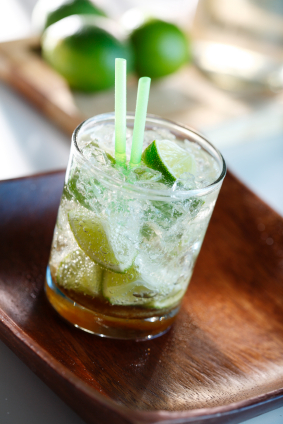 "Miner's lady, stranger to blue water.  Dark and dusty, painted on the sky.  Misty taste of moonshine, teardrops in my eye.
Country roads, take me home.  To the place where I belong." -John Denver
Every country has it's hillbillies.  Its backwaters where the yokels live by their own rules.  For Brazil, these people are called "Caipirinha", but where and how this name became synonymous with the national cocktail of Brazil is anyone's guess.
But the national cocktail it is, and from the coast of Sao Paulo to the banks of the Amazon, the Caipirnha rages in popularity with the elite and the yokels alike.
Based on the classic "sour cocktail" formula (base spirit, lemon or lime juice and a sweetening agent), the soul of the Caipirinha comes from Cachaça, a liquor made from fermented sugarcane.  By far the most popular distilled alcohol in Brazil, in 2007, a whopping 1.5 billion liters (390 million gallons) were consumed.
That's a lot of "firewater," by God, as its other name, aguardiente, translates to.  So what is it exactly?
Cachaça has been made for more than 500 years and is the product of the distillation of fermented sugarcane juice.  "Well, that's rum!," you say.  Close, but not exactly.  The majority of rums are made from the molasses of the sugarcane, which is a byproduct of sugar production.
Some rums, however, especially those from the French West Indies (like Martinique) are made from the juice of sugarcane and are called Rhum Agricole.  Cachaça is closest to these and comes in two forms: white (unaged) and gold (aged in barrels).  The Caipirnha calls for white Cachaça which is usually in the alcoholic strength range of 38% to 54% by volume.
Now enough nerd talk, let's get to the drinking.
PART & PARCEL
2 oz Cachaça
2 Small Limes or 4 Key Limes
2 Tsp Granulated Sugar
(The amount of sugar can vary based on your own personal taste.  Start small, you can always add another spoonful to help the medicine go down)
FILLING THE BILL
First step is to remove the seeds from your limes, then quarter them (or just halve them if using Key Limes) and pop them in a mixing glass.  Add the sugar and muddle them together, taking care to mix them well without breaking the skins of the limes.  When all the juice is gone from the limes, you can stop.  Add ice, your favorite Cachaça and shake for fifteen seconds.  Pour into an Old Fashioned glass and garnish with a lime.
Embrace your inner hillbillies, people.  The backwoods of America certainly fueled us with moonshine during the lean years and is continuing to be perfected to this day.  Who knows?  Maybe in 500 years, the national drink of the US will be the "Billy Bob".  A man can dream.
This ones for you, John Denver.